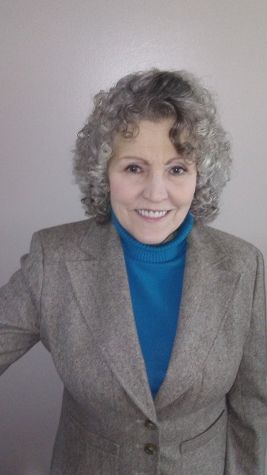 I was born into a very unhappy home with 6 siblings. My father was a working alcoholic who was kind to me even when he was drunk. My mother on the other hand...was an overweight, unhappy, and angry woman. She didn't know how to show her children affection or love, and never told me that she loved me. When she beat me...she hit to hurt...not to teach. She made life miserable for us including my Dad. "For all have sinned and come short of the glory of God." (Romans 3:23)
My father was un-churched, but all of us were brought up Catholic, and enrolled in a Catholic school with strict Dominican nuns who beat students for even small infractions during the school day. If my mother found out about the beating...she would beat us again. Though I had a great sense of humor, and loved to make others laugh...in my heart I was always crying for love. Due to a lifelong struggle with atopic dermatitis, I was mocked for my skin condition, and was always very nervous, anxious, and insecure. Inside I began to get angry and this root began to grow deeper and deeper in my soul. I always wanted to go to college and be a teacher, but when I was a senior in high school…my parents believed that women didn't need to go to college. My heart was broken once again, when all my friends left for college, and I had to find a job, and still live under my parents' roof.
At age 18, I could no longer stand all the fighting and screaming that went on all the time, and was afraid to bring any of my friends to my house. So, I escaped and married a navy seaman whom my brother brought home on leave. Little did I know, that he would also become a working alcoholic, and when our son died a few weeks after being born...he began to drink even heavier. Our marriage ended after 15 years, but God had richly blessed us with two more sons. Afterwards, I continued to struggle and fail with many relationships, but managed to find stability and purpose by renovating an 1885 Victorian home near Erie, Pennsylvania, into a 9 bedroom bed & breakfast. I hired 2 young Mennonite girls to help, and was drawn to their quiet behavior, maturity and spirituality.
Little did I know that God was working to draw me to Himself. One Saturday night, I had no guests in the inn, which was a rare occurrence. Then a TV in one of the guest rooms turned on by itself. I sat down to watch...it was a local pastor who was preaching the gospel and challenging his listeners to go to church. I now know that God was orchestrating this "coincidence" because I didn't know which church to go to until I realized I had a pastor and his wife staying at the inn approximately 2 weeks before the TV incident, and...that their church was the one God had planned for me. I sat with the pastor's wife during the service, and could not understand why I couldn't stop weeping. She quietly asked me, "Do you want to know Jesus Christ as your personal Savior?" I had never heard that statement before, but was truly at the end of myself and needed the salvation God freely offered. I knelt in that little church that day, December 6th, 1999, at 52 years old… and yielded myself to accept Jesus Christ's loving offer to forgive all my sins, and His free gift of salvation. A few months later, I was baptized and began to grow spiritually through God's Word—The Bible.
In September of 2007, I had problems with 2 of my fireplaces, and called 3 chimney sweeps to come and look at them. Mitch was the only one who called back. I was taken back by his height, and since I didn't know anything about how he would fix the leak, I just thought he would slide down the chimney—I actually feared he might get stuck! Duh! He saw a plaque by my front door that said, "As for me and my house we shall serve the Lord" (Joshua 24:15). Then he went out to his car to get his tract. (His personal testimony of coming to the Lord)
When I read it, I was certainly taken back, but at the same time...I was very intrigued. I was attracted to him. He asked me, if I was saved, and then he started a whole new conversation. Looking back at this point in my spiritual walk, I guess I was still very carnal. Anyway, he proceeded to start the work on the roof, and stopped a number of times to talk to me, while I was pulling carpet off the basement steps. As I was pulling the carpet up...I kept breaking the bulb in the lamp that I was using for light. In order to find out more about him, I asked real stupid questions like: "Are your children as tall as you too?" (Actually, I was trying to find out if he was married. Pretty bold don't you think?) Then, he told me he wasn't married and my heart skipped a beat!
He came back the next day to finish the job and brought a gift. It was a new bulb, but it was a stronger one. That was when I fell for the guy! Forget about being romantic it fads, I just wanted a practical man. After that, we talked on the phone almost every day about the Bible, his salvation, my salvation, etc., etc. He came back in October, to rake all the leaves off my very big front lawn while I was at work. I knew I was hooked!
One afternoon in December, I was sick with the flu, and had been in bed for three days. The doorbell rang, and I snuck out of my bedroom very softly, to see who it was and— to my surprise it was Mitch all dressed up in church clothes. I couldn't possibly answer the door in the condition that I was in! Let's just say—I had no makeup on (don't leave home without it) and—the worst case of bed head hair (didn't comb it for 3 days, and probably frighten a cadaver!!). Well, he kept ringing the bell, and the dog was barking like crazy, so I decided to call him from my bedroom. He had just preached in the Pottsville, PA Prison, and was so anxious to tell me about how many men gave their lives to Jesus. I really had missed him, so I asked him to give me an hour to get ready, and he said that he would wait. I never moved so fast in my life! I even started a fire in the now working fireplace to add a little cozy atmosphere.
We sat opposite of each other in the living room and I finally got the nerve to ask him a question that had been on my mind for a while: "Mitch is there anything going on between you and me?" His answer was: "Oh yes, I like you, I really like you". I said, "Well now, at least we are on the same page". We married on April 6th, 2008. In these 10 years as husband and wife, I have grown spiritually stronger in the Lord primarily because, Mitch was my disciple and I have been blessed by his furor for the Word of God.
Three years ago, I was diagnosed with Multiple Myeloma the same cancer that took my sister's life in 2012. There is no cure for this cancer because it affects your blood and bones. I am not afraid of dying—because I know where I am going! "For to me, to live is Christ and to die is gain" (Philippians 1:21), but while I am alive—I want to tell everyone I can about the Jesus who changed my life, and my eternity—so they will also come to know that they can share the same joy, peace, and purpose for living that I have and—be comforted that they no longer can only hope for Heaven, when the Bible tells us we can KNOW for certain that Heaven CAN be our eternal home too. "These things have I written unto you that believe on the name of the Son of God; that ye may know that ye have eternal life." (1 John 5:13)
The anger, disappointment, and wounds we experience in this life are real, but they are all a result of sin. Jesus is the cure for sin, and He wants all of us, to turn our lives "Right Side Up"...as He has mine. "For whosoever shall call upon the name of the Lord shall be saved!" (Romans 10:13) I pray that you too, will call on Him today, and make Him your Lord forever. It's the most important decision you can ever make!
***Nora's husband, Mitch, had the opportunity to share his testimony on CBN's The 700 Club this past year. Today, Mitch is a traveling evangelist, spreading the good news of Jesus Christ, and Nora is right by his side. *** Making a Living from Anger (Enjoy watching Mitch's testimony!) Mitch's ministry site: Mitch Zajac