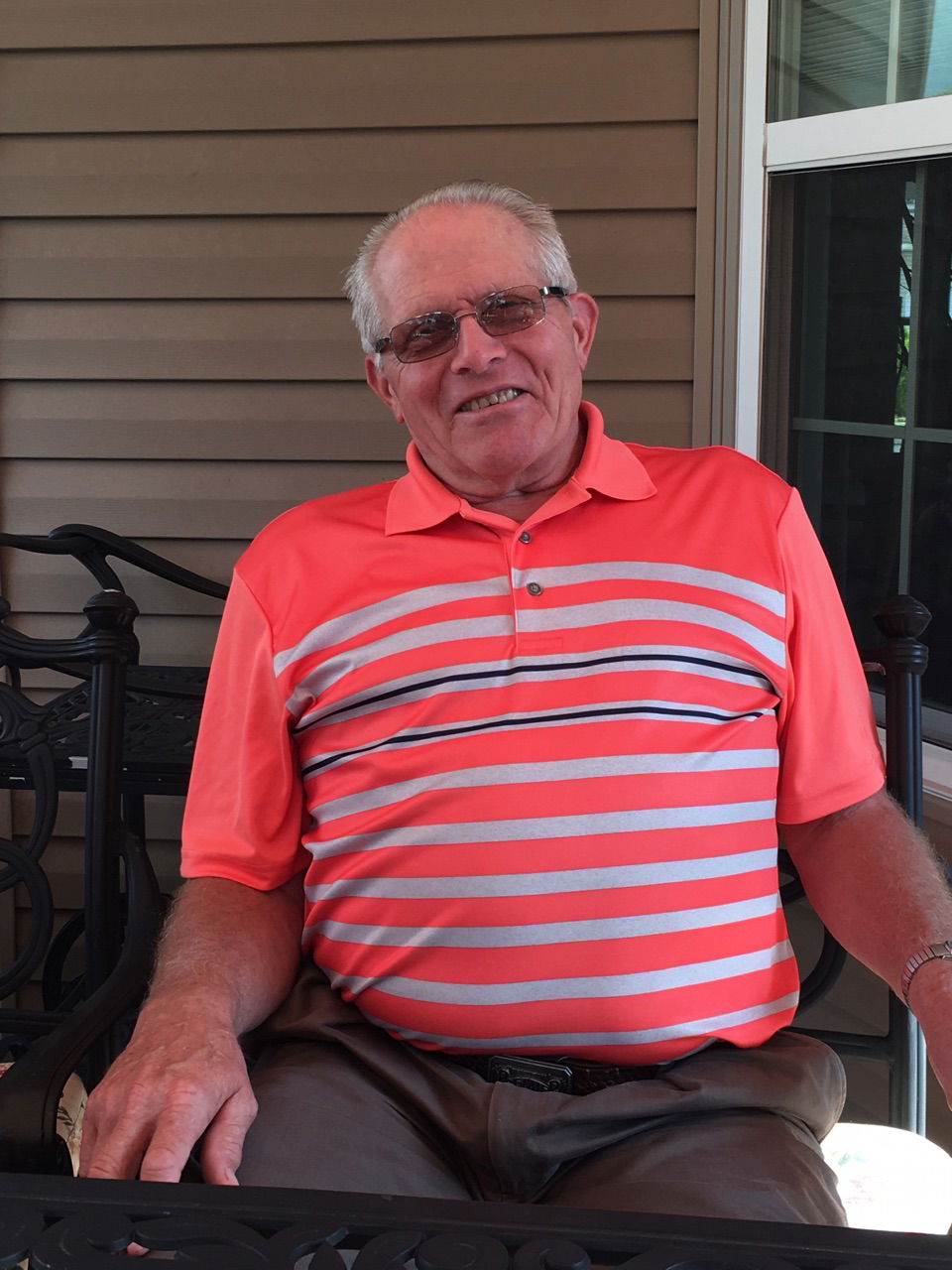 I was raised in a religious home—not a Christian home, but a religious home, nevertheless. I was always required to go to church. I had a grandfather who was a preacher in a Brethren church who had a born-again testimony (Note: salvation, saved, and born again are biblical terms referring to the forgiveness of sins by God and the rescue of a person from the power and penalty of that sin. This is God's requirement for everlasting life.) I heard the gospel of Jesus Christ for the first time at 7 years of age when I had an opportunity to attend a Monday night service every other week called "Kiddies Treat." It was held at the home of Mrs. Gertrude. Her whole family was involved in an outreach program for the kids in the neighborhood. I left that program when I was nine years old. Even though she and my grandfather were good friends, I didn't see her again for nearly 3 decades.
When I was 11, my folks went through a divorce, and I became a latchkey child. I didn't have any rules, regulations, or restrictions on my life. I started working almost full-time when I was 15 for some of the luxuries of life and to help my mom put food on the table. I didn't see much of my father because I was angry at him for what he had done to our family.
At 17, I packed up and left for the Air Force. I had already spent a night in jail for drinking, and I was involved in many things that pulled me down as a teenager: music, alcohol, and fighting. I went into the Air Force, so I wouldn't have to go to school anymore, and get away from all the restrictive rules and regulations being put on me at home now that my mother had changed shifts, so she could be home with me more often. So, I became a ward of Uncle Sam. In the service, I learned how to drink, fight, and curse even more. I spent three years in Germany. While there, I married a girl and brought her back to the US. Our daughter, Tanja, was born after we returned from Germany. That marriage didn't last long because my life was under the power of alcohol.
I stayed single for five years and married again. That marriage didn't last too long either for the same reason the first one failed. By this time, I had another daughter, Kristen, with my second wife. Despite all the vows I had made to myself about never putting my kids through the heartache of a broken home—here I was with two kids and two broken homes.
By this time I was about 36 years old and 4 years earlier, my brother Bill had been saved. I hadn't seen Bill for about 5 years and my dad in 16 years. There was just a wide gap between us. When Bill became a Christian, he started to send me literature hoping to draw me to the Lord. I took the literature and laughed because I just figured he had gotten religion. I had no idea what is all meant. I had pretty much given up on trying to figure life out, and I was just cruising along on autopilot in the rut I had made for myself.
One night in 1983, there was a knock on the door, and it was my brother who had made a special trip to invite me to go to the Lehigh Valley Baptist Church that night. I argued with him about why people never go to church on Friday night. Since I didn't have any friends, and it was so nice to see my brother, I told him if he'd just stop talking about it, I'd go to church with him and his wife. Although, I didn't know it at the time—his wife started a prayer chain that turned into about 400 people praying for my salvation.
When I walked into the church with blue jeans, a flannel shirt, long hair, a bad attitude, a pack of cigarettes and the idea of getting a beer right after the service—the Lord got a hold of my heart. The message that night was preached by Gary Gilmore, a visiting evangelist. He was preaching about the importance of being born again as shown in the New Testament in the book of John chapter three. At first I had no idea what he was talking about, but I listened, and it seemed the whole message was directed to me alone. I came to the realization that if I didn't do something that night to get right with God, I would probably spend eternity in hell because of my sinful nature.
The preacher asked everyone to bow their heads and close their eyes. He then invited those who wanted to know Christ personally to come forward. My brother cheated and opened his eyes to look at me. He saw I was having a lot of trouble—I was weeping and fidgeting, and he leaned over and simply said to me, "What will you do with Jesus Christ?" I turned to him and told him that if I could get down to the front of the aisle, after the mess I had made of my life, I think I could really get some answers from God that could help me. Well, I did get to the front of the church, and one of the men took me into a side room and shared several passages of Scripture with me. I bowed my head and asked Jesus Christ to come into my life, to save my lost and dying soul, and He did! That was March 18, 1983 on a Friday night. I knew that night what it meant to be born into the family of God.
God began to work in my life. I went to see my dad to share with him what had happened to me, and I asked him if he was saved. He said "Yes," and gave me a convincing testimony of his salvation. He also told me he knew he had made many mistakes along the way and asked me to forgive him for his sinfulness. Through that the Lord restored the years that we had been apart. He died a few months later.
I also went to visit see Mrs. Gertrude, my old Monday night Bible class teacher to tell her of my salvation—She wasn't surprised though. She told me she had been praying for my salvation for the last 29 years! She never lost faith that one day the Lord would claim me as His own.
More than 26 years have passed, and while God has given me a lot of challenges, He has also given me the strength to meet them. I've been fortunate to be able to serve for many years at the Allentown Rescue Mission, in Allentown, PA—bringing the Word of God and my personal testimony to many men who have traveled the path I was on for so many years. Presently, I am serving with Cornerstone Prison Ministry at Valley Forge Baptist Temple, in Collegeville, PA. The Lord has also brought me a wonderful Christian wife and family to share my new life with.
I'd like to leave you with one final thought. As a young man starting out, I thought I could pretty much do whatever I wanted to do and get away with it. But God has a way of getting to you—because He loves you. God sent His son, Jesus, to die on the cross for my sins and your sins and for the sins of the whole world. My advice to anyone is to get into the Word of God and judge yourself by the standards in God's Word, so that you won't be found lacking when you face God in eternity.
Scott Wilson lives in Boyertown, PA, and he'd be happy to share more about his Savior that changed his life. His number is (610) 367-7689
John 3 New King James Version (NKJV)
The New Birth
3 There was a man of the Pharisees named Nicodemus, a ruler of the Jews. 2 This man came to Jesus by night and said to Him, "Rabbi, we know that You are a teacher come from God; for no one can do these signs that You do unless God is with him."
3"Jesus answered and said to him, "Most assuredly, I say to you, unless one is born again, he cannot see the kingdom of God."
4 Nicodemus said to Him, "How can a man be born when he is old? Can he enter a second time into his mother's womb and be born?"
5 Jesus answered, "Most assuredly, I say to you, unless one is born of water and the Spirit, he cannot enter the kingdom of God. 6 That which is born of the flesh is flesh, and that which is born of the Spirit is spirit. 7 Do not marvel that I said to you, 'You must be born again.' 8 The wind blows where it wishes, and you hear the sound of it, but cannot tell where it comes from and where it goes. So is everyone who is born of the Spirit."
9 Nicodemus answered and said to Him, "How can these things be?"
10 Jesus answered and said to him, "Are you the teacher of Israel, and do not know these things? 11 Most assuredly, I say to you, We speak what We know and testify what We have seen, and you do not receive Our witness. 12 If I have told you earthly things and you do not believe, how will you believe if I tell you heavenly things? 13 No one has ascended to heaven but He who came down from heaven, that is, the Son of Man who is in heaven.[a] 14 And as Moses lifted up the serpent in the wilderness, even so must the Son of Man be lifted up, 15 that whoever believes in Him should not perish but[b] have eternal life. 16 For God so loved the world that He gave His only begotten Son, that whoever believes in Him should not perish but have everlasting life. 17 For God did not send His Son into the world to condemn the world, but that the world through Him might be saved.
18 "He who believes in Him is not condemned; but he who does not believe is condemned already, because he has not believed in the name of the only begotten Son of God. 19 And this is the condemnation, that the light has come into the world, and men loved darkness rather than light, because their deeds were evil. 20 For everyone practicing evil hates the light and does not come to the light, lest his deeds should be exposed. 21 But he who does the truth comes to the light, that his deeds may be clearly seen, that they have been done in God."
John the Baptist Exalts Christ
22 After these things Jesus and His disciples came into the land of Judea, and there He remained with them and baptized. 23 Now John also was baptizing in Aenon near Salim, because there was much water there. And they came and were baptized. 24 For John had not yet been thrown into prison.
25 Then there arose a dispute between some of John's disciples and the Jews about purification. 26 And they came to John and said to him, "Rabbi, He who was with you beyond the Jordan, to whom you have testified—behold, He is baptizing, and all are coming to Him!"
27 John answered and said, "A man can receive nothing unless it has been given to him from heaven. 28 You yourselves bear me witness, that I said, 'I am not the Christ,' but, 'I have been sent before Him.' 29 He who has the bride is the bridegroom; but the friend of the bridegroom, who stands and hears him, rejoices greatly because of the bridegroom's voice. Therefore this joy of mine is fulfilled. 30 He must increase, but I must decrease. 31 He who comes from above is above all; he who is of the earth is earthly and speaks of the earth. He who comes from heaven is above all. 32 And what He has seen and heard, that He testifies; and no one receives His testimony. 33 He who has received His testimony has certified that God is true. 34 For He whom God has sent speaks the words of God, for God does not give the Spirit by measure. 35 The Father loves the Son, and has given all things into His hand. 36 He who believes in the Son has everlasting life; and he who does not believe the Son shall not see life, but the wrath of God abides on him."