Doris Homan, was born in Cairo, Egypt, in a very strict religious environment. She grew up attending church and loved Sunday school, but yet God seemed so far. Doris's Christian Journey set her on a path of knowing God as much as she can, so she can teach others to do the same. Since, the mid-1990's, Doris has been actively participating in women's ministries in the capacity of teaching Bible studies, leading small groups, speaking at women's faith-based events, one-on-one discipleship and Christian counseling.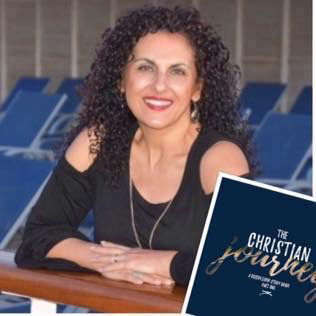 Doris Homan

----"my beloved brethren…my joy and crown, so stand firm in the Lord." (Philippians 4:1)
I was born in Cairo, Egypt, in a very strict religious environment. I grew up attending church and loved Sunday school as a child. I desired to know God but somehow He seemed far. At the age of 9 my family and I moved to the US. It was a difficult time of transition for me. Finding myself in a foreign land with no extended family or friends, I struggled with loneliness and a sense of not belonging for many years.
A couple of important things happened in my teen years; I was invited to attend an evangelical church and around the same time, some friends from high school asked me to attend Campus Crusade meetings. I began to attend both regularly and for the first time in my life I heard that I could have a relationship with God and know Him personally. This was amazing and a defining moment for me. This is what I really had desired all along, not religion but a relationship!
I struggled for a while as I felt I was already a believer in Christ but one evening, after church, I remember sitting in my room and talking to God. I acknowledged my faith in Him and my desire to have a relationship with Him. I turned leadership of my life over to Him to transform me into the person He intended me to be. (Proverbs 3:5-6)
Slowly, I began to study the Bible, pray and grow in my relationship with Christ. Over time, I began to see many changes in my life. Christ took a very shy and insecure girl and transformed her into someone He can use to initiate and reach out to others. I never thought I could stand before a group of people and speak, let alone prepare lessons and teach the Bible. He gave me a purpose and a mission. (Galatians 2:20)
During my college years, I met my husband and a year later, we got married. In my thirties, the Lord began to stir in me a real desire for teaching the Bible to women. I had the opportunity to attend several training seminars by Precept Ministries and through the inductive study method, I learned how to study, prepare and lead Bible studies.
God has given me a heart for women and a passion to see them established in His Word and using their spiritual gifts in service for Him in their local church.
For the past 20 years I have led women's Bible Studies, 6 years leading women's Sunday school class as well as small group. It's been a joy to work in women's ministries side by side with other women of faith.
Soon after a Bible Study series on the Names of God, one of our ladies was diagnosed with cancer and went through a long period of treatment and recovery. I will never forget when she told me that if it wasn't for the Names of God study we had just completed, her faith would not have been as strong during this storm in her life.
Another important part of women's ministries is developing future leaders. I am passionate about seeing women grow into future teachers and leaders so they can train other women on their journey with Christ. (2 Timothy 2:2)
A few years ago, I saw a need for this curriculum; material that covers the basic aspects of the Christian life all in one study guide. This study is the culmination of the last 35 years of my walk with Christ. It is important as a follower of Christ to know what we believe and why we believe it. It is my heart's desire and goal that this curriculum will have an impact in women's lives and firmly establish them in the scriptures. It is one thing to read the Bible and another thing to study it; to dig deeper. I have often said to my ladies that the Word of God is like a mine; the more we dig the more treasure we will find.
This journey has taken over 6 years to compile with numerous revisions. I had the opportunity to take a group of about 20 women through this study after which many more revisions followed as I saw areas for improvement.
About 4 years after writing this material, God brought Davia Rinehart into my life through a mutual friend. Davia has been engaged in discipling women (Disciples of Christ) for many years. Living about 500 miles away, she graciously came to Cincinnati to meet with me several times. I am so grateful for how she has invested of herself in this project. I am indebted to her for the hours she has spent reviewing the curriculum and hours of meeting with me with her suggestions and recommendations; her godly perspective and insight enriched this material. God also sent others into my life to provide editing and input on content. It's such a privilege to serve our faithful God. I love the opportunities He continues to give me to come alongside other women especially and pour into their lives. Discipleship is the heart of my calling.
(Galatians 2:20), describes my new life ---- "I am crucified with Christ nevertheless I live yet not I but Christ lives in me and the life that I now live, I live by faith in the name of the son of God who loves me and gave Himself for me."
Doris' ministry site is My Joy and Crown & her YouTube Channel can be accessed on the site as well.
The Christian Journey Facebook page ---- A Bible study guide to help you on your faith journey.