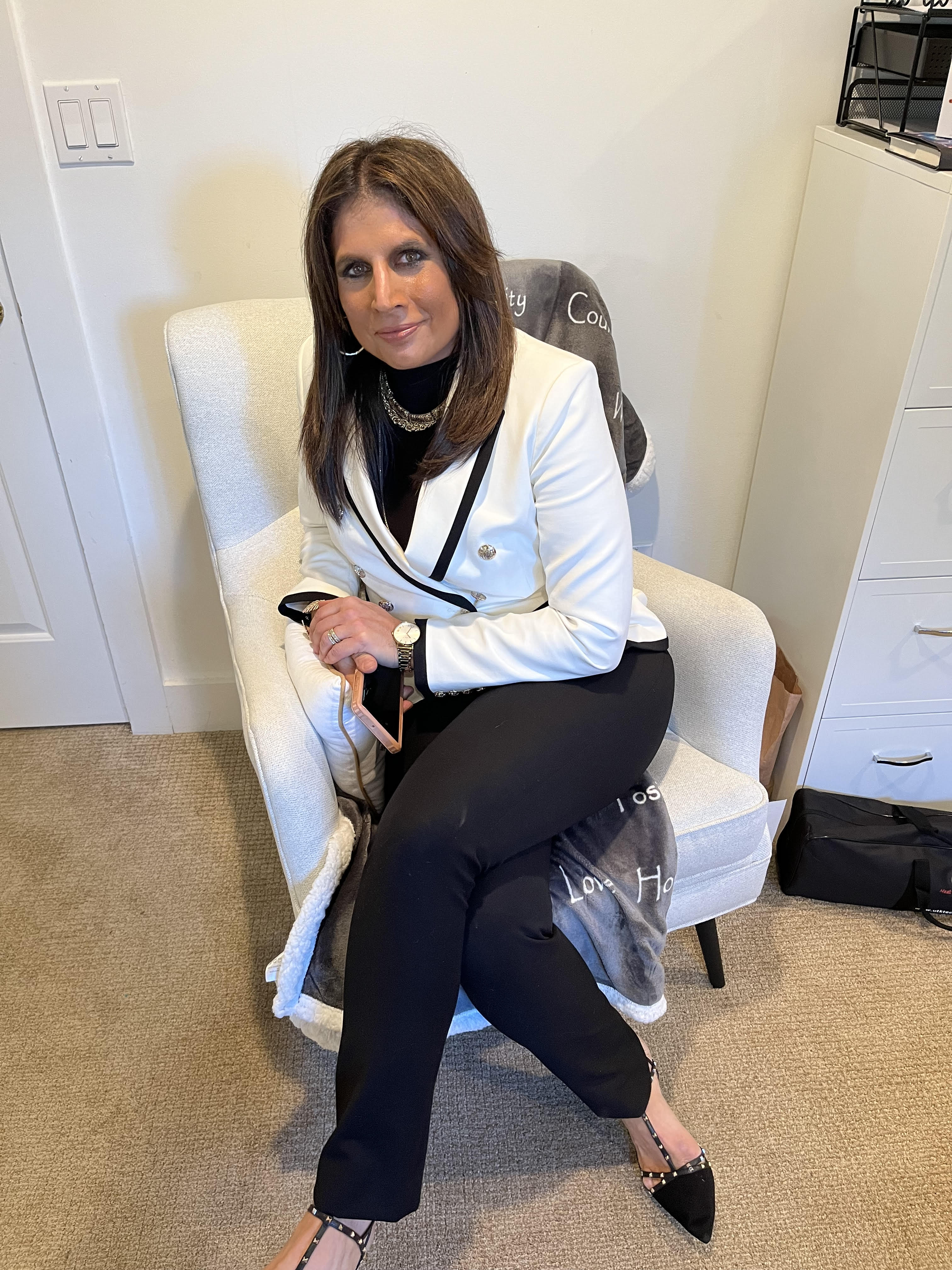 And He said to them, "Go into all the world and preach the gospel to every creature." (Mark 16:15)
What the Lord has done for me has been like a baptism by fire, and I believe what I've been through really shows the strength and power of the Lord because His strength is made perfect in our weakness. The more we go through—the more of His strength can be demonstrated in our lives. The Lord is everything to me!
From the time I was a child, I fought illness. At the age of four, my mother found me in my crib blue and rushed me to the pediatrician. It was discovered, that I had severe asthma. I found myself in the hospital a lot because I would get pneumonia and bronchitis often. At times, I would need oxygen tents because I couldn't breathe outside of them. Because I was in the hospital so much, I missed a lot of school work. Unlike today, the choices to treat asthma were limited. Two of the options were adrenaline shots and slo-bid which was like giving a child ten cups of coffee. When I was about six years old, nebulizer treatments became available.
I praise God for my mom because she's a strong woman in the Lord and she raised me to be the same—a fighter—one that perseveres and doesn't give up. My mom took care of me a lot when I was going through all of this. Unfortunately, my father wanted nothing to do with the Lord and everything to do with the world and worldly things. This caused a bit of a rocky childhood because the Bible talks about a house divided cannot stand, and because of my dad's choices, there were both spiritual and physical implications in our lives. So fighting illness, and dealing with this was not easy.
I was raised on the border of the Bronx, NY (the south end of New Rochelle), and by the time I was fifteen—we moved into Hudson Valley, NY. This move was a whole new ordeal for me because the high school was rough even back then to the point of needing security guards. I then went on to John Jay High School, which was another adjustment, and I began to have gastrointestinal issues—this was the secondary symptoms showing up before the primary symptoms.
I ended up having terrible gastrointestinal issues, and at the age of sixteen, my gallbladder had to be removed because it stopped working due to problems with the ducts going to my pancreas. By the age of seventeen, I ended up getting pancreatitis from all the gastrointestinal issues I had been fighting.
I began to attend Santa College in Lavelle, NY and while there, I was still very sick and thin because I couldn't eat a lot of foods due to my incredibly limited diet. The college was very accommodating with everything, but it was very frustrating.
By the age of twenty, my parents ended up getting a divorce. My mother tried she did, but there are just times that somebody is so set in their ways as my dad was, that it's too destructive and not good all around. With the divorce, my whole world changed and I found myself taking six classes while working thirty hours a week to try to support myself.
Nine months after getting out of Siena College in Loudonville, NY...I was working at Global Financial Services in Harrison, NY as a hedge fund accountant on a hedge fund worth hundreds of millions of dollars and I ended up the way I ended company that found me that job and when I interviewed at Globo they had me take a financial IQ test and the highest score because it was so difficult was a 40 out of a hundred and I scored an 80 out of a hundred I doubled their highest score and so they immediately hired me had a very generous salary for a 21-year-old, when they saw the score I'd gotten on that test and it was a very stressful job it was very intense a hedge fund that's worth hundreds of millions of dollars has different currencies stocks bonds commodities futures you name it it's in that fund and so I did that for nine months and during that time because of all I had gone through as a kid I stayed away even through high school in college from a lot of local um indulgences that other kids experiment with I stayed away from drugs cigarettes I barely drank a glass of wine every now and then and Because of the health problems that I have been through—I was going to the gym, eating right, and doing everything I could to keep my body completely healthy. But nine months into doing all I could to keep healthy—I began to feel flush however, this was no regular flu—this was a killer virus and within seven days, I collapsed on the floor of my mother's bathroom and she rushed me to the hospital. The doctors did not know what was wrong and thought it might be Lyme disease or MS. They ran many tests, but couldn't find anything. In an instant, my life changed! I was unable to walk or talk well and I was very weak. I will tell you that this was an attack from the pit of hell!
Nineteen years ago, doctors did not know about viruses attacking the nervous systems and neuropathy—they knew much less back then than they know now about such issues, and so the doctors couldn't figure out what was wrong with me. I was released from the hospital and we started our journey of looking for specialty doctors. We went to fourteen specialty doctors in a year and a half to try to figure out what had happened to me because, it was clear that something was very; very wrong. I deteriorated more over that time, and by the time I got to Dr. Adam's a year and a half later, at Columbia Presbyterian Hospital in New York City, he had to admit me to the hospital because my blood pressure was 70 over 40—I was thin and very weak. After testing, he thought that maybe I had pots syndrome (postural orthostatic tachycardia syndrome), but he said…"There is something else going on here that we can't quite put our finger on…an underlying autoimmune issue that we can't quite diagnose yet." Then, Doctor Adam's told me that I had to go into rehab because I was too weak and my body wasn't functioning correctly. So, I was admitted to Burke Rehabilitation Institute in Westchester, New York. It's a fabulous rehab center and the people there were amazing. I spent over a month there which happened to be during Christmas and New Year's. Even going through this God was faithful! So many people came to see me, and they decorated my room for Christmas. One of my mom's friends made food for Christmas day. The young adult's group from Faith Assembly of God that I used to help came to see me too. God was faithful in sending all these people to support me during this time. Now, as good as the rehab center was, they had never quite dealt with nervous system issues like I was having so I will tell you—rehab was very intense and difficult.
I started rehab in a wheelchair, but when I left—I walked out of there using a cane—praise God for that. The doctors told me, that I couldn't go back to work in the field of finance due to it being too stressful—They felt it would break down my body, so I had to figure out how to rebuild my life. I was very shy at this point and even afraid to pray out loud because as a kid, nobody was allowed to talk about God around my father. He would get very angry, so I was very introverted about my relationship with the Lord until He helped me with this through this trial.
I ended up being very weak and frail for a long time and would go through bouts of sickness. The doctors had trouble keeping me healthy as I would keep getting infections, so it was one step forward and two steps back. Doctor Adam's decided that I needed to have white blood cell transfusions (IVIG immunoglobulin) which are put into your body intravenously, with about a four-hour drip. They started me on a regiment once a month for five days in a row. I will tell you, they give them to cancer patients too and make you incredibly sick and tired you're down for days after you get these treatments. Well, I had an anaphylactic reaction from the brand they put me on and needed to be rushed to the hospital, so they decided to put me on it once a week instead of five days in a row. I was very weak a couple of days after treatments and was in the house a lot—I did not have much of a life—I couldn't drive and had to have somebody watch me when I went out because my legs tended to give out on me.
For seven years, I slowly got better. I still couldn't work, but I was able to drive. I continued to fight intense pain with neuropathy. It felt as if, my limbs were on fire or I was being burned with cigarettes, as well as needles being stuck into my joints. It took a lot of mental toughness to push through. To try to ease the burden and the excruciating pain, my doctors put me on a pain regiment. Pain is stress on the body, and if the body is in too much pain, it will break down the immune system. They didn't want me in a more weakened condition and to be able to go out and live and function as much as I could.
In 2012, I got married and was attending a church called John 3:16 Christian Center in Burbank, NY. The Lord had brought some wonderful people into my life there. At this point, I was able to do some housework, drive a little and some other things, but would have to pace myself—one day on—one day off—so if I had to go out and do grocery shopping, I'd have to rest the entire next day because it took my body three times more energy and fortitude to do the simple tasks that everybody else takes for granted. A lot of times, when people get sick they don't feel useful and their self-worth goes down a lot because their identity becomes that illness. I encourage you to not let an illness you are fighting become your identity because you are so much more than that lie of illness that's going on in your body. God is greater than any illness—Jesus died for people to be healed—He died for our sins.
I had to keep reminding myself during this trial that my relationship with the Lord and faith in Him was growing. Unfortunately, other things were going on in my life that added more stress and for anyone fighting autoimmune neuropathy diseases/illnesses conditions—stress is one of the worst things for your body—it's toxic and can cause relapses and the body to break down. At this point, I was in such a weakened state I was not supposed to be around anybody sick and I ended up being around somebody that was sick and from that, I ended up getting pneumonia and needed to be rushed to the hospital—something was not right the morning I woke up on September 30th, 2012. I woke up that morning, and my limbs were involuntary, I was having a lot of trouble breathing, my chest was in pain, and I felt as if I had an infection. The doctor said that I had to get to the hospital immediately. So my mother rushed me to Putnam Hospital in Carmel, NY. By the time the doctors got there and examined me, my left lung had completely shut down and no air sounds were coming out of my left lung. Within 30 minutes, they had me on a heart monitor, an IV drip of antibiotics, and steroids which are like my nuclear option—I wouldn't touch them unless it's life or death—steroids are great for inflammation, but they have a host of unpleasant side-effects. Once admitted to the hospital, I was put in the cardiac care unit because of the neuropathy and autoimmune complications I was fighting, my entire nervous system crashed—my body crashed—I lost the ability to walk, my blood oxygen level had dropped to 90 which anything below 95, the doctors don't like to see because it tells how well your body is moving oxygen through your bloodstream. I was having a lot of trouble breathing, and even trying to get into my wheelchair to go to the bathroom my heart rate would shoot up to 170 beats per minute setting off all the alarms at the nurse's station (they put my room in front of the nurse's station for this reason). I was in the hospital for three weeks but wasn't completely stable and the doctors made a decision, that I had to go to rehab again to learn how to walk again. Well, let me tell you that during this time, I had a lot of conversations with the Lord about why He let this happen—"Lord why am I going through this again? Why do I keep getting sick? Why? Why? Why? I asked a lot of why's in that hospital bed, but I also knew that I had to cling to the Lord for dear life because He was the only one that was going to save me in this—He was the only one that could heal my body—He was the only one that could bring me through this trial. I have learned that the devil (enemy) will launch an offensive before the plans of God even come to fruition in your life to stop His plans. In the Bible, the enemy did this a lot even causing the fallen angels to go down and have relations with earthly women to create the Nephilim those Giants to try to interrupt the seed—the line that Jesus would be born through. So the enemy is known for launching offensives to try to stop the plans of God from coming to fruition in your life before they even come to fruition.
When they told me that I had to go to rehab again, I was crying—I was tired—I wanted to go home—I didn't want to be in the hospital anymore—and trust me, they were lovely people the Lord sent— amazing nurses, doctors, respiratory therapists—a pulmonologist, a gastroenterologist, a primary doctor—there were quite a few specialists involved in this decision. Before going to rehab, you're supposed to be stabilized however, the primary doctor made the mistake of sending me too early, and I was transferred by ambulance to Mid-Hudson Regional Hospital in Poughkeepsie, New York. When I arrived, I was in terrible distress and had a very difficult time breathing and then a horrible asthma attack—so much so, the doctor said that they didn't know if I was stable enough—they were angry at Putnam Hospital for sending me prematurely to rehab, and they said to me that they didn't know if I could endure rehab because of my lungs and all the pain I was in. Pneumonia had exacerbated the neuropathy and I was in twice as much pain as normal. The pain felt as though it was between an eight to ten 10 all the time. The doctors decided to put me on an IV pain medication to get me through rehab and on round-the-clock respiratory treatments. I was also given large doses of steroids which they had already done a Putnam Hospital. One of the unpleasant side effects of steroids is they make you gain a lot of weight and I blew up like a balloon. My face looked round and at 5'9" I almost weighed 220 pounds. Between the steroids and the heparin shots given to me in my stomach every day to thin the blood and prevent blood clots, I was black and blue—swollen—looked completely disfigured—Yes, I felt ugly and like a black-and-blue disfigured bloated pin-cushion! Emotionally, I went through a very hard time with how much this fight—this trial—the disease—pneumonia—and how the medication had disfigured me—It was very difficult to deal with.
I ended up starting a two-month stay at the rehabilitation center, and tied the longest record they had for rehabbing there. They put me right in front of the nurse's station. I praise God because I did have a lot of favor through everything. I had a private room and when the nurses took their breaks, they pulled the curtain and they would chat with me—my room was the happening place to be to hang out and chat. Other patients would come to visit me and I'd go visit them as well. The hospital gave me special privileges and one of them was to be able to decorate the wing for Christmas. I decorated my wheelchair too with all sorts of garland in the spokes and ornaments hanging from the handles then, go scooting around the floor—the nurses would laugh. The nurses were very attentive to me not only when I was in pain or distress, but also if I wanted special food from the cafeteria. I had wonderful physical and occupational therapists, who were dedicated to trying to get me well.
While at rehab, I was on medication to help my heart rate, antibiotics, steroids, and a cocktail of drugs that tried to keep me stable and alive. Then another complication arises from the steroids and weight gain—for the first time in my life, I became diabetic and needed insulin shots anytime my glucose level went above 200. I continually had IV's and then, they put a PICC line in me, running from my vein to my heart. I had to put my faith in the Lord and trust Him—I was walking through the valley of the shadow of death, but God was walking with me—I was never alone—He never left me—He never forsake me—He never allowed the plans of the enemy to come to fruition in my life—He never allowed the enemy to kill me— He always stepped in the way and gave me the grace because His grace is sufficient to help keep me pushing—"Even though I walk through the darkest valley, I will fear no evil, for you are with me; your rod and your staff, they comfort me." (Psalm 23:4) "My grace is sufficient for you, for my power is made perfect in weakness." (2 Corinthians 12:9)
I was at physical therapy for a couple of months and while there, they had to put metal braces on my legs from my knees down to my ankles—I looked like the bionic woman. These metal braces forced me to stand up and during therapy; I would have somebody behind me with a wheelchair and someone else on the side of me. At first, they had me walking a few feet then—I slowly progressed to the point where they sent me home in a wheelchair along with physical therapy. Let me tell you that it's a very humbling experience when somebody has to take you to the bathroom—when they need to help bathe you—wash and dry your hair—and dress you—count your blessings for the simple things you can do because if you lose them, you will see very quickly how important doing tasks independently really are.
I was sent home four days before Christmas on December 21st, 2012, and my husband, Chris, had put up a Christmas tree. My dog's Roxy and Gracie had no clue where I went for two months—they were dumb-founded and when I arrived home, they were happy and confused all at the same time. I do have to say, that I felt very insecure being home on my own because my husband worked and I was in a kind of incubator for two months with people around to watch and protect me.
To help at home, I got an aide three times a week and my mom would come to help as well, but I had to learn a lot on my own like how to slide into the wheelchair by myself and go to the bathroom. I also needed to learn in my weakened state, how to go get food out of the fridge and feed myself. Soon, I received a wonderful aide by the name of Mary, who was sent by the Lord to help me with everything including walking my dogs and the insurance company. With her help, I was able to get an electric wheelchair with all the bells and whistles. This helped me greatly, so I could get out of the house and walk my dogs around the property. Getting fresh air was another huge blessing! I knew that the Lord was providing these blessings to help me get through everything—He was giving me provision to help me endure the battle. I have learned that passionate people have a will to fight and being a feisty Italian girl who was raised in the Bronx—I had a will to fight!
It's a good thing I am a fighter because by Christmas I got sick again with such a horrible infection that I couldn't even sit up. My mom and dad came over even though they're divorced—which was slightly uncomfortable, but they both wanted to be there for me. My husband, Chris, was determined to cook Christmas dinner and my mom helped him. I was so sick I couldn't even get up to enjoy Christmas. I was bloated and something was very wrong because I couldn't move—perhaps I was sent home a little too early because four days later, I end up back in the emergency room with the doctors telling me that I had bronchitis and they had to admit me. All the progress I made for the two months that I was in rehab being able to stand up with the braces and walking a little bit was lost. It was like I was paralyzed from the waist down—I had no use of my legs—my body had completely crashed. I was back in the hospital depressed and beside myself and crying out to God from my heart..."Where are you? I need you! Why?" Over the next three weeks, the Lord did some pretty miraculous things. I had ended up back in the cardiac care unit and they had sent me to a step-down unit, which is when you're well enough to be out of ICU or cardiac care and they send you to a regular floor. My husband came early on New Year's Eve to see me, but he was exhausted and went home. I said to the Lord sadly…"I'm going to ring in the New Year all by myself in a hospital bed." Well, no sooner than I said that, the nurses from the entire floor came into my room with hats and noisemakers and said…"Amanda, we took a vote and we unanimously decided we all wanted to ring in the New Year with you!" This was an answer to prayer praise God—the Lord really heard my prayer about feeling alone, and all the nurses came in and put a party hat on me, gave me a noisemaker, and we all rang in the New Year together.
Every morning, I had a respiratory therapist come in and they would make me blow into a peak flow meter which would indicate how well I was breathing. A good reading is 400 or higher and mine was around 280, so my lungs were still not completely healthy. The one time I blew into the meter, it felt like somebody had plunged a knife into my chest sending my therapist running to get the nurses because I couldn't breathe. They rushed down the hall and brought an echocardiogram (EKG), which read that I was having a heart attack. Then they rushed out of the room and called a code. Because most of the doctors and nurses on the floor knew me, and the room number that I was in, they all came running. I was suddenly surrounded by twelve doctors and nurses. It was too early in the morning for my husband or mom to be there, so I was alone and scared as they were taking blood, putting things into my IV, making me put nitroglycerin under my tongue, got me on oxygen as they were rushing me back down to the cardiac care unit. I said a very simple prayer…"Lord, you're the only one that can reach into my chest and stop this heart attack—I'm scared—please help me." By the time we got down to the cardiac care unit another echocardiogram was taken, the heart attack had completely vanished! It just registered that my heart was beating a little fast, and the doctors and nurses were in the corner comparing the two EKGs saying…"How did this happen?" They checked the machine and it didn't malfunction—they were completely dumbfounded! The Lord miraculously stopped the heart attack that the enemy was trying to bring against my life! That is the power of almighty God! Yes, my heart needed to yield to what God says—that's how powerful the name of Jesus is because every knee must bow and every tongue confesses that Jesus Christ is Lord. (Isaiah 45:23, Romans 14:11)
They called my mother and in turn, she called my husband. She raced over to the hospital and when she got there and heard what happened she was just praising Jesus up and down—she was calling people—I mean it was truly miraculous! You know it is one thing to hear about miracles, but when the power of almighty God manifests in your life and miracles begin to happen it's a whole different ballgame—it's a whole different story. I was at the hospital another two weeks before they sent me home in a wheelchair. I couldn't walk at all and it was too soon for me to go back to the rehab, so I needed to go home and they had a nurse come to clean my PICC line. The nurse happened to be a gentleman who was about six foot five and 300 pounds—he was a very big boy! Well, my puppy, Roxy, who we rescued from a high kill shelter down in Georgia, had enough of people taking her mommy away and she was going to do something about it, so on this particular day when the nurse was washing his hands in our kitchen sink, I heard Roxy yelp, and the nurse yelled…"Your dog just bit my a**!" Shock and embarrassment came over me, like blood draining out of my face, and before I could yell at Roxy, she was doing a victory lap wagging her tail—head held high running around the kitchen and living room like she just did a great thing and from that day forward, that nurse never turned his back on Roxie again.
I was only home for about ten days when I woke up one morning throwing up among other symptoms. The PICC line in my arm was red, hard, swollen and oozing. I felt like I was going to die! My husband could see that there was something very wrong, so he called my mother and they brought me to the hospital which was a tough ride because I threw up the entire way. My mother called the hospital when we were on the way, so the medical staff was ready when I arrived. When I got there, they immediately put me into nausea medicine, pain medicine, and they pulled the PICC line out. When the PICC line came out, there was a hole in my arm that was oozing. They did cultures and sent it to be analyzed and it came back that I had MRSA. I became septic and found out it's so rare to get MRSA through a PICC line that I had to be reported to New York State. Now, I was septic fighting MRSA that kills healthy people and I am in a weakened state—my heart was weakened—my body was weak—I couldn't walk, and now here comes the third attack MRSA and septic. They immediately admitted me to the hospital and put me on a nuclear bomb of antibiotics that included multiple IV bags at once. The situation was grave—In fact, I found out later that the doctors didn't know if I was going to live because my body had little strength to fight off this very; very deadly infection.
My mother called everyone who could pray because God was the ONLY ONE who could intervene and stop what was going on. Well, something miraculous happened—within two days, the numbers on my blood work doubled and were near normal! Dr. Singh was so stunned that he came into my hospital room and said…"Amanda, I have to tell you—we didn't think you were going to live and it's incredible the turnaround you've made in just two days!" Well, because I kept on improving, I only had to stay there a week and they sent me home without a PICC line for good reason.
They couldn't get me back into the rehab facility, so I went home completely paralyzed from the waist down—I had no use of my legs whatsoever. The Lord had saved my life yet again—He had miraculously intervened yet again—No infection—No disease—No situation is impossible for God! I am home in a wheelchair, bloated from the steroids, black and blue from the PICC line, and disfigured but—I'm alive—Praise God! Once home, I had to adjust to life in a wheelchair. My aide, Mary, came back to work with me again and she would bathe me, wash and blow-dried my hair, help with laundry, walk the dogs and so much more. My mom was also working overtime to help out because my husband was not around during the day due to his job plus, it was like an automatic pilot for my mom because she's been through this with me since I was a kid. Even though Mary and my mom were coming over to help a lot, I tried to learn to do things on my own as well such as—doing the laundry, how to get in my electric wheelchair and walk the dogs, and how to slide on and off of the wheelchair without falling. It was rough, but I had to accept the fact that at that moment, I was in a wheelchair and paralyzed from the waist down. The Lord and His favor were so good because a physical therapist, named Gary, was sent to my house who was determined to try to help me walk again. Gary was Catholic who believed in the Lord but never has seen a miracle before, so God was setting up something pretty incredible. Gary was special because I had another physical therapist come before and say that I wasn't going to walk again and it wasn't worth trying. But Gary wanted to try and he had a lot of compassion on me—thank God.
When Gary came over, Roxy didn't want anyone to take her mommy away again so she would get up on her hind legs and try to push Gary away from me. God bless Gary—he had the patience of a saint with Roxy and worked with her till she trusted him. Roxy would circle the wheelchair and get anxious when Gary would work with me because, in her mind, I was supposed to be in the wheelchair at all times. If anyone tried to stand me up, I'd flop right back into the wheelchair because I had no use of my legs and my upper body was so weak from what I had been through for over five months. Gary worked with me on building up my upper body and moving my legs. Well, it was about a little over a year and I still couldn't stand up and still very sick and weak. I couldn't do a lot and I felt very useless and worthless because people had to do most everything for me, which is a very humbling and embarrassing feeling—Praise God I had the help, but it's a very humbling and embarrassing feeling, when you can't do many simple tasks for yourself like doing your hair, showering, going to the bathroom, and getting food. I was determined over that year to learn how to do some things for myself. It was now May of 2014, and on a particular day, the Lord told me to go to church, which was an odyssey because just getting ready to go to church was exhausting for me and an ordeal for my husband to take me in a wheelchair. That morning though, the Lord told me to go, so I got myself dressed which is something as that point I could do on my own.
Chris wheeled me into the church in which everybody already knew that I was parlayed from the waist down. Well, they decided that day for everyone to stand up and walk down to the altar meanwhile, I was feeling that the joke was on me—it was something about an exercise in faith. So now, I'm being wheeled in this line while everybody else can stand up and walk. I began to say to myself…"Oh yeah—simple for them—I'm in a wheelchair my legs don't work." So I get to the pastors and they said to me…"Amanda, Do you want to try to stand now?" I call this my "get out of the boat moment". Was I going to stay in the boat, stay in the wheelchair where it felt safe or was I going to have the faith that when I got out of the boat, that the Lord was going to meet me, and I was going to walk? Well, I was so desperate at this point and sometimes the Lord gets us good and desperate to increase our incredible faith to do what man deems impossible, and I said "yes", I want to try to stand, so they started praying as the congregation watched. Then I began to brace myself by putting my hands on the handles of the wheelchair and in my heart I said…"Lord I need you to meet me—I'm taking a step out in faith—I need you to meet me and as I began to push, I began to stand as my legs were trembling. They were holding me—not completely, but just balancing me and then they asked… "Do you want to try to walk now?" I can taste it—now the miracles happening—now the Lord is present—now I want it and I said "yes" and one by one, I walked up those steps with their help and walked across that stage fighting for every step with my legs trembling—my body sweating from working so hard, but the Lord was touching my legs and I was walking for the first time in over a year! I was walking and you could have heard a pin drop in the congregation—they were stunned because they all knew my condition—people began crying and praising the Lord. The pastors got on the microphone and said that this is what happens when someone takes a step of faith and truly trusts that the Lord is going to meet them—This is what faith in action does!
Remember Gary had no clue what took place at church and he comes on Monday for physical therapy. When he came, I was sitting in the wheelchair and I told him that I had something to tell him. I said over the weekend, I went to church and I was prayed over and I miraculously got up from my wheelchair and I'm able to walk. With that, he threw a walker in front of me and said…"Show me!" I stood up with that walker and walked 10 feet unassisted and sat down. Gary was so stunned and proceeded to say…"In my whole career, I have never seen a miracle this!" Mary was dumbfounded too! All of a sudden, Gary had a revelation… "How am I going to explain this to the insurance companies—How am I going to explain to them that you couldn't walk on Friday and now you can walk?" Gary then had a great idea…"I know what I'm going to do!—I will write it's an "Act of God" in the reports!" It was a complete act of God and because God does nothing halfway—the insurance accompany accepted his report and told him to continue doing physical therapy with me until I could completely walk on my own. Praise God! Gary was with me another six months or more and I was able to walk with a walker quite a way. The Lord touched me and I continued to get better. During this time, there was a wonderful woman named Barbara Nelson Stone. The Lord brought her into my life eight years prior and she had been in the prophetic ministry for over thirty years. As I was getting better, God was also increasing me in prophetic gifts. From the time that I was a child, I had dreams about heaven—I would see angels in my doorway—and I would talk with my mother about events coming before they happened. As a child, it's hard to know how to harness this gift God put in me. So over time, I got better and I became less introverted with my relationship with the Lord. Barbara prayed for my boldness to begin to pray out loud because I was shy and this poses a problem if the Lord is going to use you as a mouthpiece and vessel. I'll never forget that I was getting better in my health, my faith and relationship with the Lord was growing a lot as well—everything was growing together.
It was 2015 going into 2016, and I anointed our property and I said a prayer telling God that all the wildlife can come and live here and be blessed. Well, let me tell you—be careful about what you pray for because life and death are in the power of the tongue. The Lord taught me a very funny lesson about this through what happened within 24 hours of my prayer—I kid you not because my mom and my husband both witnessed it—hundreds of birds showed up, sixteen deer, about eight vultures, numerous forest critters all within 24 hours. I hid behind the couch while I was on the phone with my mother because it was like the attack of the birds. I told Barbara what was happening and she suspected, that the gift the Lord put inside of me from a little girl was beginning to flourish, so she prayed about it and the Lord put on her heart to mentor me. During her mentoring, she taught me invaluable lessons and I began to prophesy and seeking the Lord continually because the Lord would give me dreams about events to come before they happened. As my soul prospered, so did my health! "Dear friend, I pray that you may enjoy good health and that all may go well with you, even as your soul is getting along well." (3 John 1:2) As the Lord was continuing to prepare me, I began to prophesy in church and putting prophecies out from the Lord on Facebook that have come to pass such as the Spain attack, the earthquake in Iran, and a word shared a day before the election of President Trump.
The Lord sees the beginning from the end and He shows His children what is to come so others can prepare and come to Him. At the same time that I was getting better—the Lord started sending many animals to our property that has a pond—Ducks of all different kinds, geese, deer—you name it—they were coming! The Lord told me to begin to feed them, so that's what I did. God gives seed to the sower—so I began taking my own money and sowing into the feed to bless God's creation, and the more I did—the stronger my legs got because I began to have to walk the property by getting outside to do manual labor. Then, the Lord sent me a Muscovy duck, named Jake, who ended up on my property. Jake was too domesticated to be wild, so he probably lived on a farm and illegally released. My husband, Chris, built a patent on our property for him, and then God sent other rescue ducks and a chicken named Jingles. Bald eagles began showing up too. The Lord kept on sending so many animals and I would faithfully feed and take care of them including a beautiful African Collared-Dove, who I named Grace and has become well-known on the broadcasts.
I encourage you to be faithful in the little things, and the Lord will give you bigger things to do. God honors our faithfulness in simple tasks because if the Lord can't see you can't do a simple task every day consistently how they expect you to fulfill the demands of a bigger task the same thing in your job the same thing in life be faithful in the little things those simple tests are important doing it consistently is important God does honor that so I'm going to encourage you to keep being consistent in the little things bless all of God's creation bless God wants all of his creation blessed people and animals he wants you to bless all of them he wants you to show his love to all of them he wants you to sew into all of them and if you are faithful in that God will give you bigger things God will honor you before men, God will make you an effectiveness so we are vessels we are instruments we cannot be played unless our Creator plays us like a like a saxophone or a violin or a guitar somebody's got to pick that up and play that instrument to make beautiful sounds to make beautiful music it's the same thing with our Creator we are the vessels he operates through us he is Almighty he is everything we are dust without him and to be an effective vessel for the Lord you have to know that you are a vessel you are simply a humble vessel that God has chosen to operate through you and whatever gift or task he's given you so please do the simple things every day read your Bible consistently every day your spirit and soul need the nourishment of God's Word as much as your body needs good food to run properly to be healthy simple tests read God's Word every day do it every day consistently I encourage you to do that because it will transform you from the inside out and I will tell you the Lord has completely restored me.
The Lord restored me from my head to my feet and inside out! I still fight some pain, but I am the strongest I have been in a long time. God will restore, but the thing about restoration is the old has to be torn down first and everything in my life in a way got torn down but, it has been built back up so much more beautiful and stronger than it was before. Are there some days that I get frustrated? Yes, but I have an open line of communication with the Lord and I tell Him how I feel— I tell him if I'm upset—I tell him if I don't like something but I continue to praise Him through it anyway. God wants an open relationship with us. He wants us to speak to Him—to walk with Him—to activate His Word speaking it out loud because the Word of God is a sword and whatever trial you're going through, you can swing like heck with that sword—resist the devil and he shall flee from you! It has been difficult looking back on these 16 years, but I know He gives and restores to us what the locusts and cankerworm have eaten. Yes, the years that have been taken—the Lord restores. He has restored everything to me—including my physical appearance. I am in the best shape that I've been in a long time, and that's because of the Lord and His grace and I continued to walk things out with the Lord with fear and trembling— dedicated to persevering even in the face of an impossible situation. I stared the mountain of the challenge down because through faith, my God moves mountains. Your deep grounded faith brings forth deep roots and will bring forth the most amazing miraculous events in your life. Today, I am a walking testimony—a living letter read by all men as to the power of Almighty God and what He can do for one—He can do for another. Keep fighting and persevering in the Lord. Do not give up faith—do not give up hope! The joy of the Lord is your strength. Sing praises to the Lord and speak God's Word and watch those mountains move in your life. God bless you all!