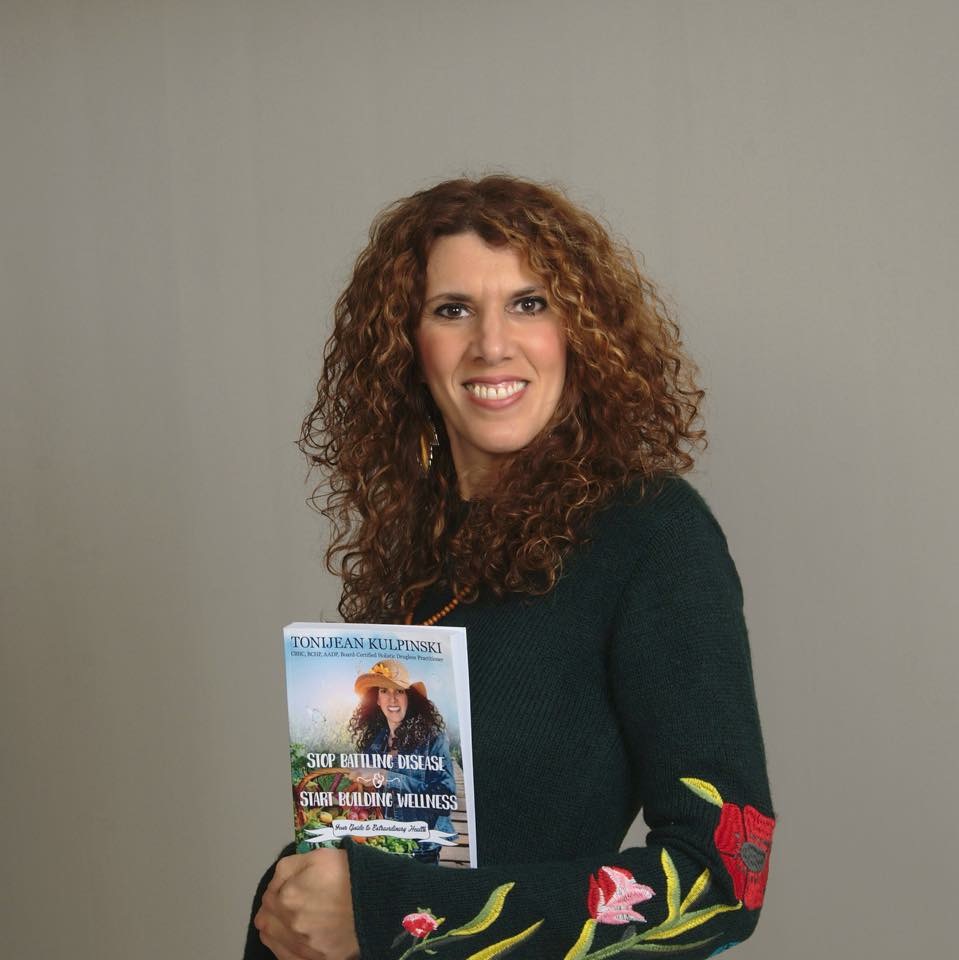 Tonijean Kulpinski, CBHC, BCHP, AADP, is a Certified Biblical Health Coach, Board-Certified Holistic Drugless Practitioner, Owner of Heaven on Earth Healing Center, Inc., and the Author of the Best-Selling Book: Stop Battling Disease & Start Building Wellness: Your Guide to Extraordinary Health.


"You intended to harm me, but God intended it for good to accomplish what is now being done, the saving of many lives." (Genesis 50:20)
I remain humble as I learned the message of health the hard way. I was one of those teenage girls that struggled with my weight. I would starve myself to fit into the latest fashion all to regain it all back from nutritional starvation. I would yo-yo diet as a way of life, climbing up and down the scale which would cause me to lose bone and muscle mass. As I approached my 20's and 30's, this pattern of life continued and my health suffered.
At the age of 18, I became a hair stylist and continued these unhealthy dietary patterns. By the time I was 28, I owned a beauty salon and worked as a heavy-duty colorist, breathing in many toxic chemicals and not eating properly. I had panic attacks, severe digestive issues, thyroid problems, migraines, dizzy spells, bone loss, severe blood sugar issues, and kidney cancer.
The diagnosis of kidney cancer was definitely the icing on the cake. Medical treatment was all I had known at the time; therefore, I was scheduled on March 11th 2008, to have my kidney removed. Thank goodness the cancer was all encapsulated, which meant that the tumor was not anywhere else. The pathology report indicated that there were traces of hair dye in my kidney that caused the cancer—a direct result of my profession.
I was so scared not knowing where to turn and just prayed that God would give me my life back. I continued to suffer from many of the symptoms as were mentioned above. Two days after the surgery, I began praying for God to give me a sign that would lead me to what He believed would heal me. I knew that just by removing an organ was not removing the "cause". Days later, my husband and I had gone to a local health food store. Well, the klutz that I am, I bumped into a bookshelf and a book had fallen to the floor. As I bent down to pick up the book, I felt an intense heat that radiated off of it and into my hands. I knew as soon as I touched the book that it was a sign from God that would lead me to my new life. The book is called The Maker's Diet by Jordan S. Rubin. It changed my life forever and began my healing journey. The Lord showed me guidelines and principles through Jordan's book on how to heal my body which is clearly stated in scripture. I never knew that the Bible was actually a manual for health—I thought it was just for spiritual needs. I started consuming 100% of biblically based food as well as a lifestyle program.
My body totally began to heal from all the various health issues that plagued me. Once I was totally disease free and living this level of extraordinary health that I never knew existed, the Lord then told me, "I have restored your health, and I want you to dedicate your life as a vessel to guide my children to restore their health." I was so empowered to receive such a command from my Lord and savior. I then, wanted to share this message to others and help transform this nation and world the way God healed me.
I began by studying from the Biblical Health Institute and was certified as a Biblical Health Coach. I incorporated these life-giving services into my new wellness practice that was once a chemical-laden hair salon. I now guide people in life-giving paths to health and wellness—God's way. I took as many holistic health programs that I possibly could that relied on Biblical Nutrition. I then, studied at the world's largest nutrition school, The Institute for Integrative Nutrition, in New York City. It was there that I learned well over 100 dietary theories, the connection between nature, the human body, and mind—all to take my practice to a level beyond what I could ever imagine.
I have not only been blessed with total restoration in my body without drugs, but to be able to share this information with many others and see their transformation. I also teach holistic nutrition at a local college for adult enrichment. God has used me as a transmitter of health and wellness where I unlock people's God-given ability to heal themselves—I do not encourage my clients to battle disease. Instead, we must stop battling disease and build wellness. So, when I asked the Lord to give my life back He never did—He gave me an entirely new one.
Today, I am 100% disease and drug free, and each and everyday I reap the blessings of extraordinary health the way we were truly designed. I am the proud owner of Heaven On Earth Healing Center, Inc., where I place anyone that God sends me, with any form of sickness on the path to total health and healing. I have also appeared on TBN's Joy in our Town and Doctor-to-Doctor. I would never change my past because it was a reflection and journey to what my present and future holds. Thank you Lord, for not giving me my old life back! I live my passion simply because it is my purpose. I do not treat disease—I restore the body's ability to completely heal by itself.
Tonijean Kulpinski, CBHC, BCHP, AADP, is a Certified Biblical Health Coach and a Board-Certified Holistic Drugless Practitioner, and owner of Heaven On Earth Healing Center, Inc.
In May of 2017, Leon Smith Publishing released Tonijean's, first book, which became an immediate best seller Stop Battling Disease & Start Building Wellness: Your Guide to Extraordinary Health. The book can be purchased on Amazon.