"Through the life of Muhammad, I found DEATH. Through the death and resurrection of Jesus Christ, I found LIFE!"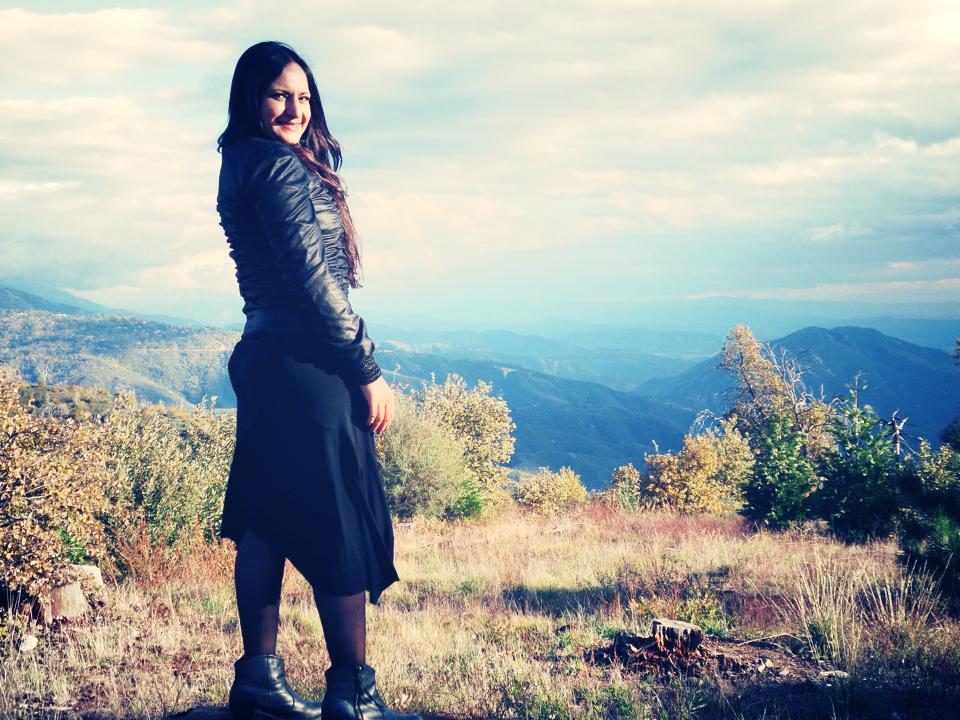 Sonia Azam
"When my father and my mother forsake me, Then the Lord will take care of me." (Psalm 27:10)
"Through the life of Muhammad, I found DEATH. Through the death and resurrection of Jesus Christ, I found LIFE!"
I was Muslim–born in Islam and in a Pakistani family in Britain. The Lord Jesus began a good work in me and I know He's going to complete it until the day He returns! When I was a young Muslim–I used to read the Quran quite a lot. My dad taught me to read the Quran in Quranic Arabic when I was young which is very common with Muslim families. Parents are very important in teaching children everything they know about the religion to grow in the faith. From the very young age of five, it was my dad who taught me how to read certain verses in the Quran. We had to memorize the verses in the Quran in Arabic, not in English. Muslims pray and memorize scriptures in the Arabic and by the time I was in my late teens and early 20's–I was reading the Quran, but it would puzzle me because I wasn't able to comprehend exactly what I was reading and I found out that this is often the case with many Muslims. We can memorize all the verses from memory–we have volumes of Arabic prayers and scriptures that we have memorized, but we don't know what we are talking about because we didn't understand the language that it was being taught. It's like learning the Bible in all Hebrew, but we didn't understand the meaning because it's not our dialect. My parents speak or adore Punjabi, but mostly at home we learned and spoke English. There was just something about the Quran that I didn't understand because it was in Arabic. Eventually, I got to read the Quran in English because my dad gave me an English translation and it was in this, that the Lord Jesus began to work behind the scenes. God knows when one's soul is longing to seek the truth. He's so faithful! The more time I spent reading the Quran in English, the more I would come across verses about Jesus. I began to compare and contrast verses in the Koran about Muhammad and Jesus and would question why He died on the cross. I didn't understand–it didn't make any sense. I couldn't find any answers in the Quran regarding this person Jesus. He seemed so different–so special–really special–even in the Quran there's a testimony of Jesus! The true living God began to reveal Himself to me by sowing seeds in my heart.
I also thank God and grateful for street preachers on the train and London public transports for it was through these faithful preachers of the gospel, that would hand out tracts so I can learn more about Jesus. Honestly, if it weren't for them I don't know how long it would have taken the Lord to get me to believe in Him. This all began to happen at the same time when I was seeking the Lord and trying to understand Allah, Mohammed, and Isa. I was searching for the truth.
A little more about my family background–I was the eldest of four kids–a tomboy, and considered the rebel –the scapegoat–the black sheep. It was in my 20's that I started seeking God in my heart. I wasn't a religious Muslim girl–I was spiritual you could say and trying to find out who Jesus was. Why was He so different than Mohammed? I would keep the amazing little gospel tracks that I received on the street and the trains, and I would keep them secret and safe from my family because in those tracks there were scriptures about why Jesus came and died on the cross. Then, I would think–the Quran says He didn't die on the cross, but Christians say He did, so to me, it was a contradiction.
Later on, I found out that historically it's a proven fact that Jesus did die on the cross for our sins, but at this early stage of sorting things out, I had a lot of questions. I have a very inquisitive mind and I was very curious. At the time, of putting the truth together, I felt that I had no theological understanding because I wasn't very good with religion in that I didn't understand anything about Christianity or Islam. Everything I learned was from the Quran. Some of the things that the Koran shares about Jesus stood out to me because it says that Jesus is a Spirit of God and He's the Word of God. The Quran also says that the Word was in Jesus and He did lots of miracles. I learned that Jesus had a lot of power. Again, I concluded that there was something really special about Him and I desired to know more. It was because of the gospel tracks that I received that I learned even more truth. Keep in mind, that I still didn't have a Bible and back then, the internet wasn't a big thing to look information up as it was 2001. So, I would read the scripture verses in the tracks and compare them to the Quran. I also tried to talk to my god at the time Allah, but he was so distant and all I saw was blackness. I even began to question why Muslims say they worship one God but pray faithfully bowing down before a rock like a star in the Kaaba. This was something that never sat right with me even as a Muslim–I was very hesitant to learn about the prayer because there is just something about the Kaaba–the black shrine in Mecca because remember, that's their prayer point–the focal point for all Islamic prayers facing the Kaaba (black stone) in Mecca. I would see the picture of the Kaaba all the time on the prayer mat in my dad's room where he would pray and it would freak me out a little bit. I used to have a lot of problems with fear and I knew the spirit of fear was following me for many years. As a little girl, I never liked being in the dark and for some reason when verses of Jesus would pop up, it would do something in my heart and I wanted to know so much more about Him, but I wouldn't dare get a Bible–it didn't even cross my mind. Eventually, what happened was I got to the stage where I began to believe the reason why Jesus died on the cross and that He was the Lamb of God–He was sacrificed and He offered Himself up to die for all humanity's sins in the world. As a Muslim, I understood what sacrifice meant because of the animal sacrifices that are done when celebrating two different types of Eid's. One of them is where they would commemorate Abraham offering Ishmael, not Isaac. Remember Muslims believe that they are the chosen people not from the Isaac bloodline they believe it is from Ishmael. So when I came across the scriptures about Jesus dying for the sins of the world and He was the Lamb of God–it began to make so much sense to me and the Lord was giving me understanding. Again this is without having a Bible and through having a few gospel tracts that I would keep safe by hiding them in my briefcase. In the next few months, I came to believe the Good News that Jesus Christ was God who came in the flesh–the Word of God because I had that testimony from Islam that He's a Spirit of God.
Then one day around 3 am or 4 am, I waited for everyone to be sound asleep and I got out of my bed to kneel and talk with the Heavenly Father. It was there, that I surrendered to Jesus as I remember saying to Him…"Heavenly Father, I come to you in the name of your Son Jesus who became a sacrifice for my sins…I'm so sorry, please forgive me…help me and my family to see you and help us to know who you are." It was at that point, that I crossed the line from being a Muslim girl to believing in Jesus—a breaking point. It seems cliché, but I'm telling you that I received the peace of God from that day onward. His Holy Spirit came and He started to live in my heart—I know it because it was right after this I desired to get a Bible and read what Jesus wrote.
In deciding to follow Jesus, I had no idea how bad my Muslim family would take it, so I kept it a secret for five or six months. My baptism happened months later. I end up doing some temporary work in my employment for extra cash. Bear in mind that I'm still living with my mom and dad and siblings while keeping Jesus a secret until the day came when I got this job, and I'm supposed to be helping the local community Town Hall. It was the general elections in the United Kingdom, and I was helping them with the ballots. It's the town in London called East Town. It's still there and on my lunch break, I would confess to others that Jesus is Lord. I had no trouble with it and I knew He was God and eventually He would work it out–He would tell my family about Himself and would save my mom and dad. I had it all worked out in my brain. Well, during my lunch period one day there was a Pentecostal gathering of Colombian Christians in the town hall in the venue where I was working. I went into the main hall because I was curious and I peeped in as they were singing songs in Spanish or in the Colombian language—I wasn't sure, but I just had a good feeling about it so I walked in and they were so excited they thought I was Colombian, so they said to come on in. I thought they were celebrating a marriage or something, and then one of the girls by the name of Angelica came over and asked me if I was a Christian. I stumbled for my words—looked over my shoulders and whispered "yes I am". She then asked if I would like to come in and if I had a Bible with me. I told her that I don't have a Bible, and I'm actually on my lunch break—I was making all these excuses because I got nervous as I was still keeping it a secret. She said to me to come over as she went and grabbed a Bible and gave it to me. I wish I could rewind and see this moment in history. I just grabbed the Bible and thanked her so much. After, I just wanted to run off and sneak it in my handbag, but I stayed in the service. Then the pastor or preacher began what we call an altar call for people to come up front and give their lives to Jesus. I saw one person than another walking up to the front to surrender their life to Jesus. I thought to myself that I wanted to do this because I knew I should make a public confession. Later on, when I got into reading the Gospels I learned Jesus said that if we deny Him before men He'll deny us before His Father, but if we confess Him before men He'll confess us before the Father. (Matthew 10:32-33) So I waited a few minutes for people to do their thing and I knew that I wanted to surrender my life to Christ. I was nervous doing it because again, I'm in a Muslim family and still considered Muslim and I knew if anyone was to see me there would be hell to pay, but I did it anyway because I felt that I was in a safe environment and I knew that God had to set this thing up for me. After all, He even had a stranger give me a Bible. There is no such thing as a secret believer in Christianity—we must boldly confess Jesus Christ—we must deny all false religions—deny idolatry—and publicly confess that there is only one God—there is only one name and that name is Jesus Christ. We must come to the place where we do this boldly and unashamedly. At the time, I was still very timid and nervous about this whole thing because I was keeping Jesus a secret, but I will never forget that it was a Saturday on June 2nd, 2001, that I gave my life to Jesus. After this, I was so hungry to read the Bible. I started reading the Bible from Genesis. I have heard that most people when they come to Jesus go to the Gospels or to the book of John, but I didn't have anyone to help me or say start here or go there, so I just figured the best way to start a book is in the beginning. I read the whole Old Testament in a couple of months and then began the New Testament. In between, I would go back to the Old Testament to check things out. I found the Bible fascinating and I was getting so many answers to my questions from why Adam and Eve were created and what the deal was with Satan because the Islamic view of the devil in the early stages of creation is peculiar and made no sense.
So when I was reading Genesis I went over to the books of the law and I understood a lot from all the books of the law which is Deuteronomy and Leviticus. During this time, I also discovered Christian cable TV and would watch some in the early hours while my parents were sleeping. I used to love Derek Prince's teachings and I learned so much from him early on in my walk with the Lord. I am so in love with Jesus it's like fire as Jeremiah says His Word is like a fire—How can I hide it? How can I keep it a secret? I can't! I would write love letters to my Heavenly Father and little poems of prayers and keep them in my bedroom. I didn't know how to express all this love that He was giving me—I didn't know how to express all this love He was giving me especially while still living in a Muslim household. As some time went by, my mom noticed that I wouldn't wake up early for Ramadan to fast, and then eventually, she found my prayers that I wrote to my Heavenly Father and saw my Bible that fell out of my handbag.
Once my family found out, everything began to happen quickly. One day my mom picked me up from the town hall where I worked and while we were driving home she began to ask me…What do the letters mean that she found? Who was my Heavenly Father? And, then she said that you're not even fasting. I was really quiet and she started to get very aggressive and angry. This is how the demonic works—it wasn't my mother it was demons—Demons in my mom getting irritated with me. She said you're not even admitting and denying it! We do not call Allah our Heavenly Father and Jesus is not a Son of God! She was beating me as she was driving the car and then said…"You better think this through before you come home today—I'm going to drop you off and tell your father so you better reconsider because he's not going to be happy! I got really scared but knew that I was going to have to say what I believe. At the time, I was still with my ex-boyfriend and he wasn't supportive or seeing the transformation going on in my life. In fact, he slapped me on the face for believing in Jesus. I learned that you could be in the wrong place at the wrong time, but Jesus Christ will always pull you out. Even though I was considered the scapegoat and black sheep in my family—the taunting increased. When I got home my dad confronted me and asked if it was true what my mom was telling him? Surprisingly, it was my mom that was more aggressive with me than my dad and after my father and I talked—my mom ramped up the attacks a lot against me in which she began to get all the relatives to come over to try to talk sense into me and interrogate me. Remember, I was only just beginning to read the Bible for myself and trying to understand the history where Jesus came from—I was very young in the faith not baptized yet—my family was coming over and putting me in the hot seat and asking me so many questions intimidating me. I would tell them that He's the God of Abraham. They didn't like what I said, but I shared with them what it says in John 10:1-11—"Most assuredly, I say to you, he who does not enter the sheepfold by the door, but climbs up some other way, the same is a thief and a robber. But he who enters by the door is the shepherd of the sheep. To him the doorkeeper opens, and the sheep hear his voice; and he calls his own sheep by name and leads them out. And when he brings out his own sheep, he goes before them; and the sheep follow him, for they know his voice. Yet they will by no means follow a stranger, but will flee from him, for they do not know the voice of strangers." Jesus used this illustration, but they did not understand the things which He spoke to them. Then Jesus said to them again, "Most assuredly, I say to you, I am the door of the sheep. All who ever came before Me are thieves and robbers, but the sheep did not hear them. I am the door. If anyone enters by Me, he will be saved, and will go in and out and find pasture. The thief does not come except to steal, and to kill, and to destroy. I have come that they may have life, and that they may have it more abundantly. I am the good shepherd. The good shepherd gives His life for the sheep."
I then remembered that I read that same terminology before in the Old Testament about the Good Shepherd in Ezekiel 34, so I knew He was Jesus there's no doubt about it it's all over the book and that He is the God of the Old Testament—It has always been Jesus! Ezekiel 34:11-16 says— 'For thus says the Lord God: "Indeed I Myself will search for My sheep and seek them out. As a shepherd seeks out his flock on the day he is among his scattered sheep, so will I seek out My sheep and deliver them from all the places where they were scattered on a cloudy and dark day. And I will bring them out from the peoples and gather them from the countries, and will bring them to their own land; I will feed them on the mountains of Israel, [b]in the valleys and in all the inhabited places of the country. I will feed them in good pasture, and their fold shall be on the high mountains of Israel. There they shall lie down in a good fold and feed in rich pasture on the mountains of Israel. I will feed My flock, and I will make them lie down," says the Lord God. "I will seek what was lost and bring back what was driven away, bind up the broken and strengthen what was sick; but I will destroy the fat and the strong, and feed them in judgment." Jeremiah 23 speaks about the Shepherd as well.
So this is why I was trying to tell my family that He's the God that has created everything. I said to my dad…"Don't you agree because in the Quran it says that Jesus is coming to judge the world?" I continued …"Muhammad isn't coming to judge the world—He's dead." This is when I would get slapped on my face. Jesus is alive—He's the resurrected God—It's so amazing, and the truth of the Gospel shakes everything you know. I was only beginning to learn, but He was going to show me much more.
So anyway, I dealt with my family members coming over for awhile, but then it culminated to the point where I was asked to leave the family home because they couldn't accept that I have become a Christian and an apostate in Islam. It was very embarrassing for the whole family, and my dad and mom would say that I was the only one who has ever done anything like this and it was the worst thing that could have happened to the family and it would have been better if they found out that I was doing drugs or something else because then they could contain and help me, but the fact that I've denied Islam and in doing this—I denied my family. They took it very personally. I shared with my dad, that he said that our faith lies in the roots of Abraham and in that regard, Jesus is the same God. I wanted my dad to read it for himself, but it was difficult. I knew that the Father, Son, and Holy Spirit were one and I knew in my heart, that He was with me all along. It wasn't possible that Jesus could come and be physically present with me, but by His Spirit He's with me—He's with us. His Spirit of truth gave me comfort in the midst of things becoming so heated with my family. I received and believed the truth of what the Bible says and found myself not knowing where I was to go for I had nowhere to go.
The Lord would speak to me through scriptures, and as I would be asking Him what to do, I would turn to a page in the Bible that would speak to me and would receive help from Him. How many times does this happen to us when we're praying about something and we open the Word and boom—the Lord is talking to you? Many times! One of the scriptures I turned to was from Matthew 10:21-23 and it says…"Now brother will deliver up brother to death, and a father his child; and children will rise up against parents and cause them to be put to death. And you will be hated by all for My name's sake. But he who endures to the end will be saved. When they persecute you in this city, flee to another." So I would read all these beautiful things that were encouraging to me, and God would speak to me through them that everything was going to be alright and I was doing the right thing. I learned that Jesus taught us that if we follow Him, people would reject and betray us, and if you're going to deny Islam as I did and stick up for the name of Jesus, you can even lose your parents—You can lose everything. God tells this in His Word so we would be prepared.
By the time Christmas Eve came of 2001, my parents called the emergency doctor to come and visit me because of course, they thought I was losing my mind. They told the doctor that I was hearing voices and talking nonsense. I told him that I was absolutely fine and it was just a domestic situation at home with a disagreement we were having. The doctor said if I needed any further help to call the special number that he gave me. If I happened to be upstairs while my relatives visited, I would have to go downstairs and sit and listen to all the stuff they were saying to me in trying to talk sense into me. They would even say I would burn in hell and that I have become an apostate or a kafir and I should be dead by being stoned to death. I cried a lot because at the time, I didn't understand why they were so hostile toward me. I was naive and I really came to Jesus with a childlike faith. I believed with my whole heart that Jesus was Lord—that He was alive and not dead because He came back to life, and that He was coming back again. The Quran actually says that Jesus will be coming back to judge the earth as well. I would rather follow a man that is alive than dead! God gave me some boldness even in the early days and I would speak what He was putting on my heart.
It was Christmas Day and my mom, dad, sisters, and brother were home. My parents wanted me to leave the family home, but I had nowhere to go and I didn't have any Christian friends as of yet. My younger sister, who was around 12 years old at the time, shared my room and would often see my parents smacking and beating me so she was worried and would get really upset and cry at times not knowing what was going on. I would try to comfort her by letting her know that everything was going to be OK. My brother was in his early teens and didn't understand.
When the night would come, my dad would say to me…"You have to understand…What you have done is very bad and we cannot accept you this way. You need to make a decision. Either you continue with Jesus or you come back to your senses and we'll get you married to a Muslim man, and you'll be fine and you can forget about Jesus." I told my dad that I cannot deny Jesus because He is God. I proceeded to apologize over and over again for all the bad things I did in my life and for giving them so much trouble as I was a rebellious tomboy.
I tried to encourage my dad to read the scriptures for himself on why I have come to know Jesus is God, but he couldn't receive it, and they thought I lost my mind—we couldn't reason with each other. They were sure that someone in my life was brainwashing me, and they wanted to know who told me Jesus was God. I was scared to say anything to them, but I needed to tell them that He clearly showed me the truth that in Islam, you're worshiping an idol as paganism. My mom became very emotional as I am sure she believed she had lost her daughter. That night, I was slapped and beat and realized how serious the situation was. I sat at the edge of my bed talking to God telling Him that I did not know what to do or where to go and that I love my parents. I was always a homely girl and wasn't independent like some teenagers and people in their 20's. In fact, I went to a university a couple of years prior and dropped out because I was so homesick. I was terrified because I didn't know what to do so I opened the Bible and this is what I read from Psalm 27:10…"Though my father and mother forsake me, the Lord will receive me." When I read this, I knew that the Lord was with me and was going to take care of me—Everything was going to be OK. How can anyone tell me that Jesus is not God when I'm talking to Him and He's talking back to me? That's no coincidence! So I took a deep breath, and I said …"All right then, okay Lord, let's do it." I had a suitcase which was full of things that I have accumulated over the years that I emptied as my little sister watched with concern. I told her not to worry and that it would only be for a short time and I will be staying with a friend. As I was packing, I remembered what Jesus said in the Gospels if you want to follow Him. It says in Matthew 16:24…"Then Jesus said to His disciples, "If anyone desires to come after Me, let him deny himself, and take up his cross, and follow Me." I wanted to stay with my parents as I had attachment issues, but the Lord was allowing me to surrender in His time step by step. It was around 4 in the morning, that I sneaked out of the house while they were all sleeping to catch a taxi. Three months went by and I was still very mindful of how upset everybody at home was as well as the Islam community. Once in a while, I went home to check in on my family to test the waters and see if they calmed down, but they were still very angry with me and there were just more arguments and they would say nasty things about Jesus and I would leave again. Unfortunately, I couldn't tell my family where I was staying because I didn't want them to know in case there would be any drama for the people that I was living with.
After leaving home, I started attending a church and soon was baptized. Of all days for my mother to look for me and find out where I was, it was on the day of my baptism. I was already anxious that anyone from my family would find out about what I planned to do. As I was getting ready to be baptized, I gave my testimony and began to cry. When I looked up, I saw my mom and auntie there. My heart sank and I thought to myself…"Not today! Not on the day that I'm getting baptized!" I then tried to tell the pastor to give him a heads-up that there might be some trouble because my mom was there. He said that it would be fine and it was good that she's in church, but then as I was stepping down into the base of baptismal water she walked up and was screaming and cursing about Jesus and me. At the same time, Pastor Tony continued to baptize me while holding his hands over my ears so I couldn't hear what was being said. He then proceeded to say…"I baptize you in the name of the Father, the Son, and the Holy Spirit." I was so excited to die to myself and rise up with Christ as well as saying my own prayers in my head trying to block out what my mother was saying as she screamed at the edge of the baptismal water. I asked the Lord to please forgive her because she thought I was lost and didn't know what she was doing. The people that were at the church rose and began to pray in tongues. It was the first time I have ever heard what it means to pray in the spirit or in tongues and I realized what was happening was a spiritual battle. I was still sobbing my eyes out because I didn't want anything to happen to my mom as she was so hysterical saying things like…"I'm going to burn this church down! I'm going to get your brother to burn this church down! You rejected Islam! You rejected Allah! You rejected the whole family!" The leaders in the church tried to calm her down, but she had what seemed to be super-human strength which was actually demons manifesting in her. After the baptism, I got dressed and stayed with a family from the church for a season. There was a rumor going around that the local taxi firm had my photo and gave it out to the drivers who were mostly Muslim to be on the lookout for me, so every time I would leave the house or go anywhere, I needed to disguise myself because I didn't want anyone to recognize me.
Eventually, I moved up to north England in Derbyshire and stayed there for five years. In those years, the Lord isolated me so I can have time alone with Him to get grounded in the Word and grow in my faith. There were lovely people in the church and they looked after me and gave me a job. While there, I did keep in contact with my family and they tried and succeeded to persuade me to come back home, so I did. When I moved back, they forbid me from going to church, and unfortunately I compromised for the sake of saving them respect in the community and because they both were struggling with sickness. In fact, one night my dad collapsed due to his type 1 diabetes and we were concerned that he would go into a coma. I had memorized Isaiah 53:5 and I confessed healing over my dad in the name of Jesus. "But He was wounded for our transgressions, He was bruised for our iniquities; The chastisement for our peace was upon Him, And by His stripes we are healed." My dad came around and felt better before the ambulance came and he said to me…"I heard you pray in the name of Jesus for me." I said…"You did?" and then, I thought he was going to hit me, but he didn't and said…"Thank you for doing that." A miracle in itself!
When I moved back home, my career and social life distracted me and my relationship with Jesus grew more lukewarm. I turned to music and dancing which as a little girl I always liked. Because of the prohibition my family put on me, when I would go to church they would find out. I didn't want the church to get in trouble, so at the time, I thought it was best not to go. When I moved back to London, the Lord began opening doors for me concerning a documentary and opportunities to share my testimony on very popular media outlets under a different name than my own of course. My interests also grew in political things such as terrorism. I knew that the Lord had a calling on my life and for various reasons the enemy was trying his best to take me off track. Even from the early days, I became distracted from hurtful people that would come into my life, but the Lord still kept me close to Him even though for a bit, I had a pattern of drifting from Him and then coming close to Him again. In this, I learned that fellowship with other believers is essential not only for encouragement, but for our protection and support. Going to church too is very important in strengthening our walk with Him. Because I didn't have this at the time, I threw myself into my career, music, clubbing, and getting involved in politics. I began to have many contacts in the media as I continued to do things "behind the scenes" fearing what my parents would do if they found out. All the while, I didn't stop reading my Bible because I knew that God showed me so many things in those five years, and He began something special so I can help others by exposing truth and being a bold vessel for Him. But first, I knew I needed to get rid of my fear of man that always seemed to be there even though my heart burned for Jesus. As I share my story, it's 2019, and I moved to California. Before moving, there was three to four occasions where my dad had me sit with the Imam from the Mosque because they were so worried that I was getting more stubborn in my faith with Jesus, and they thought it would take a Imam Mosque leader to talk with me about why I was wrong about Jesus and that I have been brainwashed into believing that the Bible is true. At the time, I didn't know how to answer the questions that he was asking—as they were questions that only apologetic's and people like that would be able to answer. So I had no idea what to say, but I had my Bible in my hands and would tell him…"Well, it says here" to no avail as they would not listen. Unfortunately, there's a blindness and an evil spirit behind this thing and twice, the Imam said to me that my punishment for what I've done was death and that I'm a kuffar or apostate and I need to die for it, but then he said something to my dad like well you know, this is the UK though. I knew the seriousness of what I've done to accept Christ and appreciated the concern of the Muslim community, but they don't know what I know right now, but they will. Many from the Islamic community are coming to the knowledge of Jesus. In fact, Muslims are coming to Jesus in great numbers around the world because He's appearing to them in dreams and visions. Those that have found Jesus are persecuted, but they don't care because they are saying… "We found everything…He's our treasure!" Jesus talked about the treasure in His parable—He's the treasure—He's the world's most precious treasure and no one can steal that from me ever again! "Again, the kingdom of heaven is like treasure hidden in a field, which a man found and hid; and for joy over it he goes and sells all that he has and buys that field." (Matthew 13:44) I want to serve Jesus for the rest of my life! I have to let my light shine like a candle in the darkness. I ask for boldness in Jesus name. We all are special in Jesus' eyes. He considers us so much that He even numbers the hairs on our head. "But the very hairs of your head are all numbered. Do not fear therefore; you are of more value than many sparrows." (Luke 12:7)
Jesus is returning soon—I'm so excited! A lot of hard times are coming, but we have to be strong. We can't let anything shake our faith. He's the Shepherd—He's the door and the God of Abraham, Isaac, and Jacob—there's no other and I want to serve Him all the days of my life! "Salvation is found in no one else, for there is no other name under heaven given to mankind by which we must be saved." (Acts 4:12)
Sonia Azam's YouTube Channel--Research. Expose!
"Therefore whoever confesses Me before men, him I will also confess before My Father who is in heaven. But whoever denies Me before men, him I will also deny before My Father who is in heaven." (Matthew 10:32-33)
"Most assuredly, I say to you, he who does not enter the sheepfold by the door, but climbs up some other way, the same is a thief and a robber. But he who enters by the door is the shepherd of the sheep. To him the doorkeeper opens, and the sheep hear his voice; and he calls his own sheep by name and leads them out. And when he brings out his own sheep, he goes before them; and the sheep follow him, for they know his voice. Yet they will by no means follow a stranger, but will flee from him, for they do not know the voice of strangers." Jesus used this illustration, but they did not understand the things which He spoke to them. Then Jesus said to them again, "Most assuredly, I say to you, I am the door of the sheep. All who ever came before Me are thieves and robbers, but the sheep did not hear them. I am the door. If anyone enters by Me, he will be saved, and will go in and out and find pasture. The thief does not come except to steal, and to kill, and to destroy. I have come that they may have life, and that they may have it more abundantly. I am the good shepherd. The good shepherd gives His life for the sheep." (John 10:1-11)
'For thus says the Lord God: "Indeed I Myself will search for My sheep and seek them out. As a shepherd seeks out his flock on the day he is among his scattered sheep, so will I seek out My sheep and deliver them from all the places where they were scattered on a cloudy and dark day. And I will bring them out from the peoples and gather them from the countries, and will bring them to their own land; I will feed them on the mountains of Israel, [b]in the valleys and in all the inhabited places of the country. I will feed them in good pasture, and their fold shall be on the high mountains of Israel. There they shall lie down in a good fold and feed in rich pasture on the mountains of Israel. I will feed My flock, and I will make them lie down," says the Lord God. "I will seek what was lost and bring back what was driven away, bind up the broken and strengthen what was sick; but I will destroy the fat and the strong, and feed them in judgment." (Ezekiel 34:11-16)
"You shall not make for yourself a carved image—any likeness of anything that is in heaven above, or that is in the earth beneath, or that is in the water under the earth; you shall not bow down to them nor serve them. For I, the LORD your God, am a jealous God, visiting the iniquity of the fathers upon the children to the third and fourth generations of those who hate Me, but showing mercy to thousands, to those who love Me and keep My commandments." (Exodus 20:4-6)
"Therefore, my beloved, flee from idolatry." (1 Corinthians 10:14)