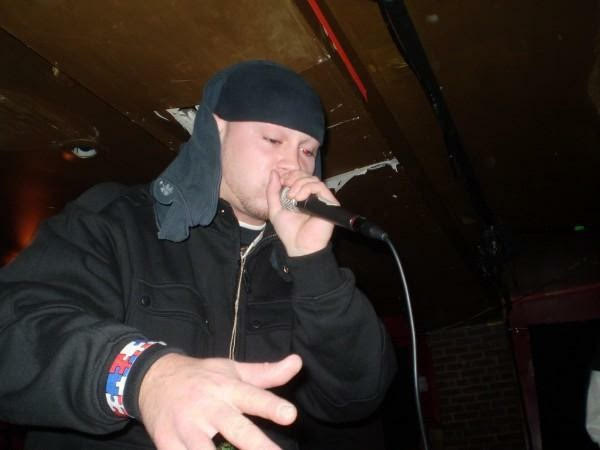 Christopher J. Maskey
"Come to me, all you who are weary and burdened, and I will give you rest."
(Matthew 11:28)
These are the words that were spoken by Jesus Christ—Yeshua Hamashiach—who has changed my life and this is my testimony.
Many of you know me from preaching the Word of God, and from helping lead others so they come to a place of accepting Jesus Christ as their personal Lord and Savior. But, my life wasn't always like this—my daily thoughts and motives weren't always this way.
I grew up in a small town about an hour north of New York City, named Cold Spring. It was a quiet little town, where I would end up spending the majority of my time alongside, my mother & stepfather. My biological father and mother split up shortly after I was born, and my mother married my stepfather when I was around 5 years old. My father had problems with drugs and alcohol and when I was 6 years old we had received the phone call that he was found dead in his apartment from an apparent suicide. As a child, my mother wouldn't tell me the truth of his death—she would just tell me that he was really sick. Even so, as a young child, it affected my life and was always in the back of my mind that my father was gone.
My mother was my best friend. She was the best mother any kid could ask for—on top of having a great stepfather, who was always supportive and there for me—it kind of took away some of the pain, I was experiencing with losing my father at a young age. As a kid, they both decided it would be best that I attended a Catholic school where I also took part in all of the required sacraments and was an altar boy. At this time, my mother & stepfather, were truly seeking the Lord in their lives, and became disappointed because they just weren't finding what they were looking for inside the Catholic church. They eventually gave their lives to Jesus Christ and both became born- again Christians.
The majority of my childhood, I remembered my mother & stepfather reading their Bibles, going to church, and both living their entire lives for Jesus Christ in all that they did. They did all they could to lead by example, and to teach me the truth about the Word of God and Jesus Christ. As a child, I believed in Jesus Christ—but the temptations of being a teenager, and getting involved in the things of the world took precedence in my life.
During my senior year of high school, my life took a turn for the worse when my mother got the phone call that changed our lives forever. She found out that she had cancer and needed to be immediately rushed in for radiation treatment. While most of the kids were enjoying their final year in high school, and planning on where they were going to college—my mind was occupied day and night with the health of my mother and what my life was going to be like without her if she died. I noticed my mother and stepfather always were praying, and instead of me joining them—I hid behind drinking and using drugs to take away the pain of what I was feeling. At 17 years old, I was borderline an alcoholic and stared to experiment with drugs to escape from reality. I remember my mother would always keep a positive outlook, and her faith in Jesus Christ was unlike anything I've ever seen. Standing before these doctors who were showing her the cancer that was growing in her—she continuously, remained strong and trusted in her faith in Jesus to get her through it.
As the months went by, my mother went through numerous surgeries, radiation treatments, and she was now but a shell of the person she once was because of it. The cancer had literally destroyed her body—but it couldn't touch her spirit. My senior year came and went, and eventually my mother's cancer had gone into remission right before I was to start my freshman year of college. I went to a local college about 20 minutes away and was able to still come home and visit my mother and stepfather often to check up on her. Everything seemed to be getting back to normal—my mom's health was improving, and my new life as a college student had just started. Shortly into my sophomore year—the cancer had come back, and as it did—I continued to seek comfort in drinking and using drugs. Coming home and seeing my mother smile knowing that she was struggling was tough to see, but one thing her and my stepfather always had was their faith in Jesus Christ. It was during my sophomore year, that I came out to visit my mother, and she had the difficult task of finally telling me the truth about my father—he didn't die because he was sick, but that he indeed killed himself. My life was crushed, all the years of believing he was just sick now, I had to face the fact that he committed suicide—I truly wasn't prepared mentally to walk around with this news. My mother and stepfather always would talk about the power of having Jesus Christ in their lives, but I ignored what they told me and tried to seek comfort in the things of this world.
Halfway through my junior year of college, the cancer was now fully attacking my mother's body and was more aggressive than ever. I decided to drop out of school and move back home, so I could take care of her, and spend every day with her while she was fighting for her life. Shortly after, she was asked to come into Sloan Kettering's cancer center in Manhattan for a last effort surgery to remove the cancer that was inside of her mouth and throat, but just an hour into the surgery the doctor's called us down to let us know that the cancer had spread throughout my mother's body and they knew there was nothing they could do. My life came crashing down at that point, and reality set in that soon—I was going to be losing my mother. We walked back up into the recovery room to see her sitting up smiling, and asking how she did—I didn't have the heart to tell her the news the doctor told me, so I just hugged her and told her how much we all loved her. Throughout her entire battle with cancer my mother had her Bible right next to her. I couldn't understand where she was getting this courage and comfort from just reading a book—she was staring at death and yet she wasn't afraid at all.
A couple weeks later my mother finally passed away. I was now a 21 year old college dropout, no job, no money, medical bills coming in, and I just lost my best friend in the whole entire world. It was just me and my stepdad living together in our little home, and I remember how he used to tell me about Jesus, and how I needed to fully ask Him into my life, but—I still wasn't ready. I was very angry inside—angry that my father killed himself, angry that God would take my mother away from me, depressed and at that point—I really didn't care much about living anymore.
The drinking had fully taken over my life—drugs were taking over as well, and I began to seek ways to take out my frustrations in life, and I found it in the form of music. I had always been interested in hip hop music; it was my life for the majority of my childhood and as a young adult. The sound was very aggressive, angry, and the songs were full of violence which was exactly fitting for the way that I was living. I began going to the studio week after week, getting high on drugs, and creating my own songs. I was going on the radio performing, doing shows, sleeping with different woman every week—the life of a rock star as many would call it. The pain and anger in my songs was something that really made me stand out from the majority of the other artists, and I was quickly making a name for myself in the New York music scene. I had opened up for some of the most popular artists in the industry and it seemed as if my time was coming to be next. It seemed on the surface that I was happy, but inside I was full of pain. As the years went by, I had lost sight of who I was—the drugs and alcohol had fully taken control of me, and when I looked in the mirror, I couldn't recognize the person I was looking at. I never once faced any of my problems. I buried them deep down inside—hidden behind a wall of drugs & alcohol, but I found out quickly that just because they are hidden, doesn't mean they go away. My life consisted of nonstop run-ins with the law, getting arrested, fighting, abusing my body with drugs and drinking, and even witnessing friends around me die that were living the same life that I was living. All along my stepfather never gave up on me, and kept bringing up this one name—Jesus. Yet, I continued to shrug him off.
I maintained this lifestyle for over 6 years, and with no sign of any future or reason to continue living in my mind. Until the day that Jesus Christ finally got hold of me. I was coming down off of a 2 day binge just sitting in my room, and at my lowest point in life. Staring at a picture of my mother—depressed and upset at the thought of how disappointed she would be of the person I had become. I sat back on my bed and then it happened—I overheard in the other room my stepfather listening to a message from a preacher on the television. I walked closer to the door, and I felt something leading me to listen to what was being said. It was as if the preacher was talking to a whole congregation of people, but the message was directed towards just me. He started talking about sin, and how Jesus Christ died to take away our sins to give us a new life—A NEW LIFE??? That's what I NEED!
He then started talking about the devil and how Satan wants us to keep seeking drugs, keep seeking alcohol and women. It was like everything I was hearing was about MY life. How could this be??? Then the preacher said the one scripture that forever changed my life. He quoted from the book of Matthew when Jesus said, "Come to me, all you who are wary and burdened, and I will give you rest." Rest??? Nobody needed rest more than I did at that very moment. Rest from running away from my father's past, rest from the pain of losing my mother, rest from the anger inside of me, rest from all the drugs and drinking that ruined my life—I was mentally and physically exhausted, and now this man is telling me that Jesus Christ can give me rest??? I wanted to stop, I wanted to change, but I was so scared because I didn't know how—and, I didn't think I was strong enough to leave behind my old life and fully trust in HIM. But I knew that I wasn't going to last much longer if I continued, and it was at that point I fell down to my knees, and called out to Jesus Christ—with tears in my eyes I said, "I just can't do it anymore—I was ready—I needed rest—I needed a new life—I NEEDED JESUS!!"
I can still remember the prayer I made. I said to Him that He could have my life, but I just ask that you find me someone that I can marry and have a child with to start over and have new life together. I remember asking for Him to bless me with a good job so I can provide for my family. And, I remember just laying down everything—fully giving my life to Jesus Christ that day. I felt like a new person, I felt like for the first time in years the weight of the world was taken off of my shoulders, and I just wanted to live every day from there on out for Jesus.
As I sit here and tell you my testimony, it's hard for me to believe that it's been almost 9 years already. Since then the Lord has completely blessed me with a new life, a happy life, a lot more abundant life than I could ever imagine. Shortly after I called out to Jesus Christ and asked Him into my life, He introduced me to an amazing woman, who eventually would become my wife. We've been together now for over 8 years, and have been blessed with a beautiful baby boy, and a 2nd child that is on the way in November. I was also blessed to land a great job shortly after meeting my wife, and I've been there for over 8 years as well. Literally, everything I asked for when I gave my life to Jesus Christ the Lord has blessed me with, and more! I look back at where my life was, and where He's brought me from and I can't help but praise the name of my Lord & savior Jesus Christ—Yeshua Hamashiach—for saving me. My change was not overnight—little by little He's been removing my old ways of living and replacing them with His righteousness, changing me into His image, and He's still working inside of me every single day.
For years now, I have been completely free from the hold of alcohol and drugs in my life, free from feeling the pain and anger that was inside of me, and replaced with His everlasting love. All along the answer to my problems was right in front of me—the same thing that my mother used in fighting her battle with cancer—the same thing my stepfather used to get through the tough times of losing my mother, and—the same thing I needed in MY life—Trusting in Jesus Christ and asking Him into my life.
Galatians 2:20 says, "I am crucified with Christ: nevertheless I live; yet not I, but Christ liveth in me: and the life which I now live in the flesh I live by the faith of the Son of God, who loved me, and gave himself for me."

Jesus Christ died not just so you and I can have eternal life, but He also died so we can experience true life on earth, the type of lives that our Heavenly Father wants us all to live! All we have to do is trust in Him and seek Him to give it to us—and it will be.

2 Corinthians 5:17 says, "Therefore if any man be in Christ, he is a new creature: old things are passed away; behold, all things are become new."
I urge anyone out there who may be reading and listening to my testimonial video below, to call on the name Jesus Christ. You don't have to keep struggling—there is a way to obtain a new life. And it's not by going out and trying to conquer your problems on your own. COME AS YOU ARE! The bible says "Come! Whosoever will, let him take the water of life freely." If He could change my life—He can change yours for it was nothing that I did, it was all in Jesus Christ. I was just willing to take that small leap of faith and call out to Him, admitting I'm a sinner, acknowledging that He died for my sins and was raised 3 days later, and then finally asking HIM to take over my life—HE hasn't left my side since. If you are struggling in life, please don't wait another day. NONE of us are promised another hour in this life. Jesus is the one and only way to eternal life—He's the only way to bring about the changes we all are seeking in our lives on earth. I come to you as someone who was once in your position, and I plead with you to stop fighting these battles on your own, stop running—JESUS is waiting with open arms for you to come home—your new life is right before your eyes, and the power is all in the name of Jesus Christ and what He did on the cross! Don't wait another day.
The Maskey Family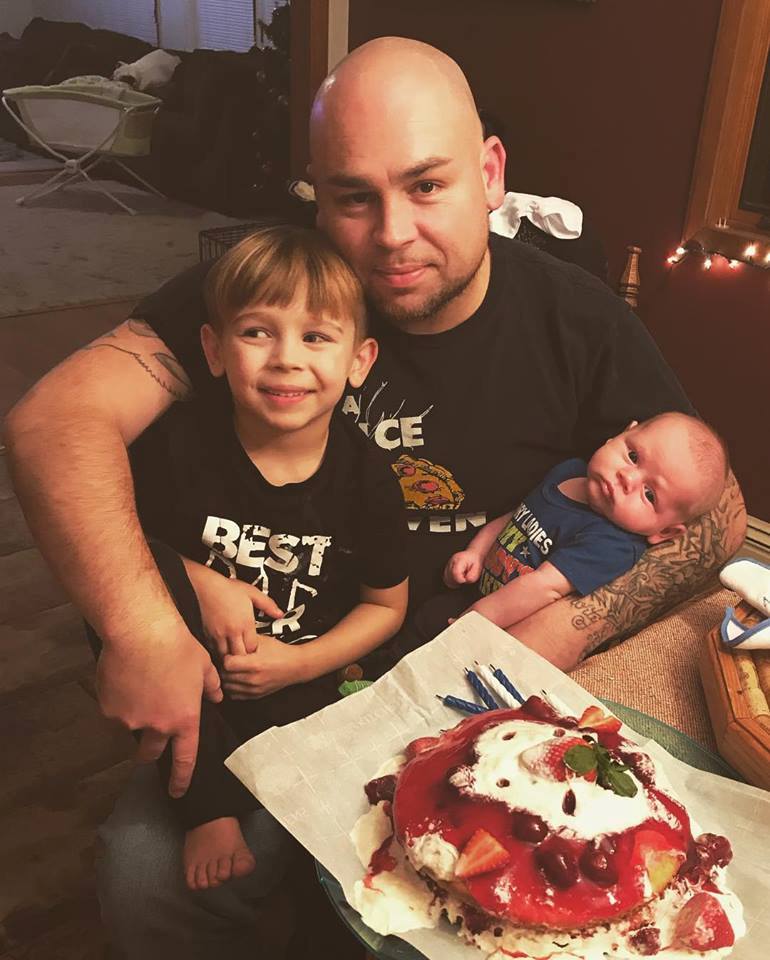 New Addition to the Family
Link to Purchase Christopher's book, "It Shall Be Given"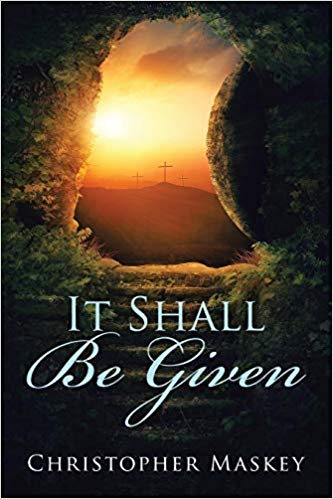 Christopher's Video Testimony: "Last Call to Calvary" & YouTube Channel
Christopher's Christian Rap Songs