"For I,' says the Lord, 'will be a wall of fire all around her, and I will be the glory in her midst.' " (Zechariah 2:5)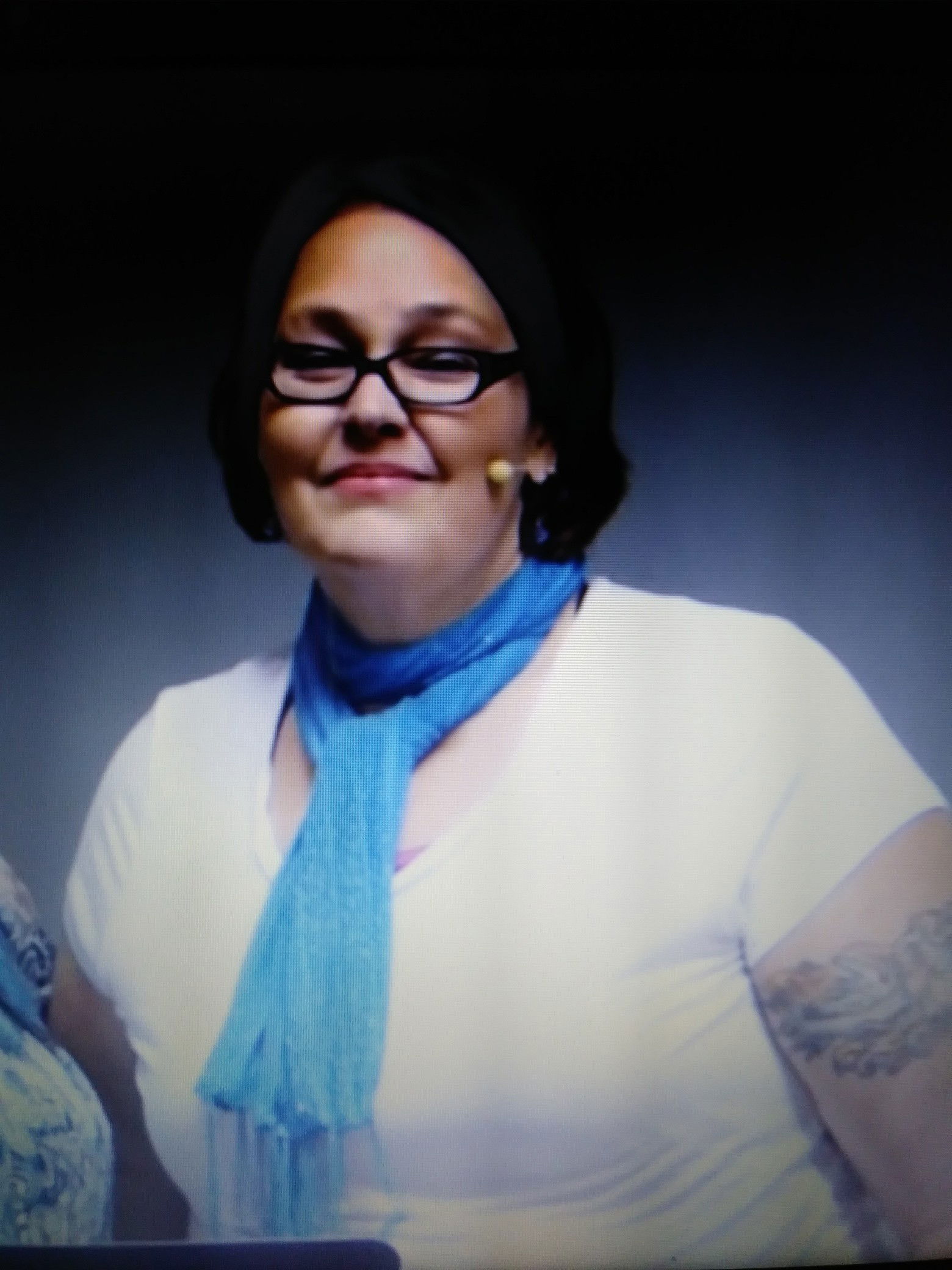 Simone Peer
Certified Professional Coach, Mentor & Trainer
(Contact information is at the end of her testimony)


Growing up in the Bible-Belt—I was certainly no stranger to the presence of Christianity. There were plenty of churches on most corners.
My immediate family didn't go to church; although there were some attempts to get my siblings and I to attend. My paternal-grandparents and great-grandparents were devout Southern Baptists. My grandfather was even a deacon at his church, but I can probably count the number of times, that I went to church or Sunday school with them on one hand. While on my mother's side, the only presence of Christianity was that my step-grandfather was Catholic, and his biological children practiced the faith too. I didn't view them as much different as "we" were—just in being allowed to drink. Even though both religions have distinct differences—for whatever reason, I saw them as bible-beaters, who had strict rules that were, extremely hard to live by. This alone, made me feel neglected, overlooked, and more like a burden. Sadly, I can't say what got in the way of them trying to ensure that my siblings and I had Jesus in our lives.
I remember at one point, my mom got us involved with a church, but I think, it was more of a way to "dump the kids off" for a few hours, than caring about us learning about Jesus. I mostly remember waiting in the parking lot for a long time after church was over for our mom to appear in the station wagon to take us home. My aunt also brought us to Vacation Bible School one summer when I was staying with my grandmother. It was only one week, but it was memorable. She also got us enrolled in an outreach program that picked up wayward kids and brought them to church and Sunday school. That was 40 years ago! By the Grace of God, I still have, (and now use), the Bible I earned (for memorizing the books of the Bible). I also took with me a song: Blue Skies and Rainbows—the good parts anyway that help keep Jesus alive in my heart.
In my teen years, some dear family friends got saved, and they started to spread the word of salvation among their circle of friends. My mother, brother and I, joined in with great delight. My sister was already out of the house, so she didn't come, nor did my father. I never knew why he had no desire for anything church or Christ related, but I always suspected growing up with his "Bible-beating" parents and family, that he must have gotten turned off to God and Christianity. He never spoke about the Bible, God, or Jesus, but—I suspect he knew all about them. There is no way he could have grown up in that household, and not read it a time or two. I'm left to wonder, if he called out for salvation before his remaining moments on earth.
The return to the church—with most of my family in tow—was the most memorable and powerful church experience of my childhood! At this time, I was 15, and found myself in a dynamic environment where the members were on fire for Jesus. It was a Pentecostal church where people jumped to their feet in the middle of service, used tambourines, and sometimes even leaped up to run a lap around the sanctuary shouting praises to the Lord. Folks also would drop down to their knees and spoke in a prayer language called "speaking in tongues. This church was alive with the Holy Spirit, and I wanted what they had! We had Sunday school and weekday Bible study classes. The pastor lived next door, and had an above-ground swimming pool. One night after service, I got baptized in that pool. I don't remember how it came about, but I remember that it was dark outside and the idea of a whole new way of life was exciting. I wanted to speak in tongues, I wanted to be overcome by the Holy Spirit, I wanted to know Jesus the way they did. Much to my dismay, that didn't happen—Sadly, it didn't stick or rather, I should say, I didn't stick to it. This would be my last attempt at knowing Jesus until He came for me about 34 years later. I remember being in Sunday school asking questions and feeling frustrated that the teacher didn't have answers. In retrospect, I have no idea why I couldn't satisfy my cravings or why I couldn't get what I was looking for because now I see all the answers are right there, in the Holy Bible, but back then—I never got what I craved. I never spoke in tongues and that was a deep disappointment. After a few months of being active members, my mom, who was a hair dresser at the time, was called into a meeting with the pastor. He gave her an ultimatum—Stop cutting hair or stop coming to this church. Well, she stopped going to church. This was a devastating blow for me. My brother and I, continued going to church, but it was by the grace of our family friends coming to pick us up. We lived in the opposite direction of the church, so I imagine this was a bit of a sacrifice for them. Now that my mother was not welcome, I started to feel ostracized, like an outsider who was no longer welcome at the church, so it wasn't long that my brother and I stopped attending too. I suspect some of the things that led to us to leave was that we didn't follow the rules. This was the kind of church where women wore skirts and dresses only, they didn't cut their hair, and they didn't wear any makeup or jewelry. I don't remember if there were men rules, but the men did cut their hair, generally short and neat. They would call the television "the devil box" and encouraged members to not own TVs, nor participate in worldly things, such as bowling. The church was pretty strict; however, I recall at first, they said that our non-adherence to these things was not a problem, but I'm left to wonder what was really being said in private. In my opinion, they sent a whole family straight into Satan's arms. WARNING: IF A CHURCH IS CONTROLLING AND MANIPULATIVE IN RULES AND REGULATIONS SETUP BY MAN--THIS IS NOT OF GOD, AND YOU ARE ENCOURAGED TO RUN AS FAST AS YOU CAN TO FIND A CHURCH THAT DOES THINGS GOD'S WAY.
When I was 16, my family moved across town and that meant new friends and opportunities. Somehow at my new school, I ended up going to a presentation in some kids' basement that was on "backward masking". I recall that he played Led Zeppelin, The Beatles, and who knows what else backwards and—we could actually here satanic lyrics. It was intriguing and creepy at the same time. I met one of my new best high school friend at that meeting, and thankfully she found the Lord way before I did, which was a blessing for her, and one in disguise for me. I had started experimenting with smoking cigarettes, drinking alcohol, and with some drugs when I was only 13, (yes, even in the midst of trying my best to know Jesus). Unfortunately, by the time I was 17 or 18, I was high almost all day—every day. Somehow I started going to a group meeting with teens my age who were trying to get clean and it worked for awhile. I have no idea why I quit going or what happened, but I stopped.
I mentioned the church part of my upbringing, but I haven't talked about the occult and New Age influences. My mom was a psychic and talking about ghosts, spirits, horoscopes, numerology, and energy vibes were all common place in my childhood. I don't know where it came from, but we had a Ouija board "game", which I recall playing many times. Other "scary" games we played with the neighborhood kids were Bloody Mary and Wanda Witch. We would share real-life, family ghost story experiences as well and this was all normal to us at the time. When we moved to a new house—the ghost and spirit activity followed us—Lots of incidents and things happened, and we weren't exactly freaked out about it.
My personal fascination took a deep; deep dive into the occult a few years later. My brother had sold a car to a woman who read Tarot cards and when I was home on a visit from college, I called and made an appointment to meet her—I did and was hooked. She was so radiant and her eyes sparkled with love and light. WARNING: "For Satan himself transforms himself into an angel of light." (2 Corinthians 11:14) It was during this time period, that I was drinking, getting high, and having way too much fun. Needless to say, it wasn't long before I wasn't doing well in my premedical studies. Then I became seriously ill, and didn't have the energy to catch up, so I ended up dropping out from that semester, and a few months later moved back home.
Once I was home, I became a diligent student of the Tarot card reader. She helped me recognize that I already had "psychic abilities" and they just needed to be fine-tuned. I followed in her footsteps reading cards, but her primary lesson was to sharpen all abilities because "you won't always have your cards with you". She had several proteges and we each had our unique expression of our "gifts". In addition to developing our skills, she also helped us develop businesses doing readings. I became a regular member of the myriad of psychic fairs, that were held locally and within a few hours radius of our home town. I became part of a growing network which included several occult and new age bookstores and magical art shop owners. I became a frequent flyer into these shops devouring all the knowledge I could get access to—I was building my arsenal of tools, spells, information and enchanted ingredients.
I remember walking to or from my mentor's building one day, and receiving a "divine downloaded" message about the truth of Jesus—or so I thought. Only when Christ came for me and showed me who He really is, did I feel that lie leave my heart, forever. The message that I received all those years ago was—everything is light, we are all light, and God is light because we reincarnate for eons, and each lifetime—we have an opportunity to gain more light until in one final lifetime, we become "total light". In essence, Jesus was no different than me, except that as a teacher, He was more evolved than I was—He also had more light when He came here than I did, but eventually—we would both be part of the light, that was earned by each soul in the evolutionary process. I often signed my name with "Love & Light" because, I thought it was a tribute to this great and beautiful "truth". I even had a tattoo, that I called the yin-yang of angels, that I thought was depicting light wins over darkness. I cried in repentance, and for Jesus to forgive me because the Holy Spirit revealed to me I actually had a tattoo of Lucifer/Satan. At the time, I thought it was beautiful and divine because the image had occult origins, but I was very blind to the real truth.
As I said, I was a sponge for the occult, and began to study witchcraft and practice magic. I became enamored with spells, herbs, oils, incense, colors, candles, sigils, crystals, channeling, psychic readings, ghost & spirit hunting, and channeling the power and knowledge of "the divine". I was a practicing witch and as such, was introduced to someone who would become my sister in the craft. Drawing more people into our circle, we all thought we were "white witches". I was into the power of sigils and spells and my sister, was more into practicing Wicca. I had an arsenal of candles, oils, dried plants, parchment, enchanted inks, crystals, incense and "sacred" items for my altar, and so much more. As I write this, I'm thinking how thoroughly deceived I was! I was into so much darkness, that I can hardly believe that I even thought I was an agent of "The Light". The great deceiver is indeed good at his job!
In working with my sister witch, there were three others we called to us to work pentagram magic. Each of us identified with one of five main gods and goddesses aligned to the points on the pentagram for circle work, with elements and all manner of things that were designed to open us, and fill us with the spirit of the one's we picked; although I think we had already been chosen by the principal demon who had us, and were just playing out our part. I had access to the "heavens" as well as, the underworld and her influence upon me reigned as the power behind magical works of spell-craft, sorcery battles, and the ever-expanding—always mysterious—and always alluring supernatural.
Many memories flood my mind while sharing my story—part of me wants to include it all, and part of me wants to erase it all. I do remember at the beginning of this journey, that Jesus was there for me; even though I was not there for Him. He rescued me from something sinister and yet—it didn't draw me back to Him. I think it shows that nothing happens without God's approval—He let me go as far and deep as He needed and wanted me to go, but kept me relatively safe, so when I was really ready to live for Him—I was there to answer yes!
One of the times that God came calling, I was a Tarot card reader and working with crystals. I was at a physic fair and looking for a particular kind of stone. I spoke with some vendors, and one man in particular said, that he had some in his inventory at home, and he could send it to me. I signed up on his mailing list, and because it came up that my birthday was coming—he gave me some crystals. One was a very particular kind assigned certain tasks and properties. When I got home, I put them in my room.
That night, as I lay on my side in bed, that man or one of his demons came to me. He lay with his body and leg draped over me and spoke into my ear. I recall being unable to move, or speak. In my head, I was shouting for every piece of protection and then, I saw Jesus' face before me and almost instantly—the demon was gone! I was relieved and shaken at the same time!
The next day, I took the crystals to a friend and she found a demon had been attached to the crystal with me as its assignment. That mission was not accomplished because Jesus did not allow it. She was an artist and drew a picture of the hideous creature. Sadly, my response to this event was not to come to Christ, but to double down in my quest for more occult knowledge; I never wanted to feel powerless or risk any degree of uncertainty about how to handle anything like that should it happen again.
I had built up a clientele for doing psychic and Tarot readings, and along the way—clients who needed and wanted magical warfare and protection began to find me. I found myself battling witchcraft and Satanism and built a reputation as someone who was not to be messed with. Meanwhile, the explosion of industrial Goth and "alternative" dance music clubs, and raves begged for the dark and mysterious. The most popular club in my town was in an old storefront in the abandoned downtown area, and I got myself set up to be the resident Tarot reader. I would set up a magical space in the storefront window and later one of the parlor rooms. Little did I know that this not only attracted fans and new followers of the arts, but also those that hate the occult.
This was the kind of place where all black, lots of leather, studs, kink and club kid regalia was the norm. There was a man that was a regular there and he was very quite. He always dressed in leather kink-wear, and danced by himself, so how we came to sit in one of the parlors and chat at length escapes me. He shared that he was a Satanist and described in detail his path. We shared and compared notes about the kinds of magic we did. Remember that I thought I was a white witch, so the black magic he worked seemed a far cry from what I did. In retrospect, now that I know ALL MAGIC IS SATANIC, I wonder if he knew there really wasn't any difference between us. I'm not sure because he did say he didn't like that I was a love-n-light witch, or that I was doing my thing in the club. As we spoke, we actually fostered something pleasant from there on. I tell this story because I remember thinking: "He and I are equal opposites", and I completely respect his position. I didn't agree with it, but I respected his devotion to his craft as much as I was devoted to mine. I also thought I had more respect for him than I did for Christians because Christians were so hypocritical. They preached how people should live then would do the exact opposite. My disdain for Christianity was growing. I got to a point where I could not even say the words God or Jesus. In my mind, they were part of a system used to conquer and control the masses of the world. I laughed at the idea that Christian Holidays—ALL OF THEM—are pagan/satanic holidays celebrated by witches worldwide! When I finally came to Jesus, I learned that we need to live what He teaches to be a great witness to the world. Unfortunately, the Christians I came across both in my childhood, and during my days of practicing witchcraft—did not live out the scriptures as He teaches.
THE GREATEST COMMANDMENT
"One of the teachers of the law came and heard them debating. Noticing that Jesus had given them a good answer, he asked him, "Of all the commandments, which is the most important?" "The most important one," answered Jesus, "is this: 'Hear, O Israel: The Lord our God, the Lord is one. Love the Lord your God with all your heart and with all your soul and with all your mind and with all your strength.' The second is this: 'Love your neighbor as yourself.' There is no commandment greater than these." (Mark 12:28-31)
I can see that God had His hand upon my journey, and the patience to get me to the point, that I could be His in an instant. Looking back to my journey out of witchcraft, I'm inclined to show how much deeper in I went. For a few months, I moved to London and brought all my light [dark] arts with me falling into crowds where everything I was into flourished.
One week after returning home to the states, I moved to a much larger city than I grew up in. One in which I had many friends and had visited many; many times. I already had friends there who were involved in dark arts and of course drugs and alcohol were still the norm. This city had a much larger cultural spectrum than where I came from and I was introduced to many new paths and forms of witchcraft. Pretty much everyone I cared to hang out with lived the same way. I recognized in some arenas, that I was the pioneer that led many others into this intriguing and mysterious realm. I continue to repent and pray for every single soul that I helped lead astray, of which there are many.
My first divergent path was into Santeria. The mother of a friend was a Santeria and I started seeing her for "cleansing", or protocols to wash off "the bad stuff" and avail me to "the good". Although, I don't recall all the details the main thing that stands out is that these were limited to things that smelled good and included flowers. I was invited to attend her group meetings where I was asked to do water scrying (a basic method of divination).
I continued along my own path of witchcraft, psychic phenomena and new age "energy", studying Shamanism (traveling into the upper and lower worlds and finding/using your power animals), and learning how to astral project. I was invited to a Native American sweat lodge because Native American practices had also intrigued me. This led to my deeper involvement into Native American and Mexican/ancient Aztec/Nahuatl practices which, included pipe ceremonies, vision quests on ceremonial lands, and lots and lots of prayers using tobacco and other herbs. There was always honoring of the ancestors. I was gifted with an eagle feather among other ceremonial treasures. This led to being introduced to a woman who practiced an ancient African religion known as Ifa. This is the origin of Santeria (as well as the Cuban, Haitian and Brazilian versions) and where my journey took a much deeper dive. The entree into this world included lots of readings with the Opele, which then led to rituals, ceremonies and initiations. This is where the rubber met the road for me, and I didn't even know it. Animal sacrifices were a regular part of my path here. I had many ceremonies done in the darkest hours of the night with blood dripped over my head that ran down my face and onto my clothes, special herbs were then placed on my head and wrapped on for sleep. I would then wake very early to follow specific instructions to dispose of the head stuff and complete the ceremony. I had to follow specific instructions regarding disposing of the animal's body: sometimes in a cemetery, sometimes in running water or a nearby quarry.
This morning when I woke up, I thought of how intriguing and compelling this kind of journey was and how I wished someone had told me that anything that needs to be done in the dark, need not be done! JESUS does everything out in the open—in the light for everyone to see. I listened to someone else's redeemed Satanist testimony and he said at one point when he realized what he was involved with he actually asked…"Is this a satanic cult?" And the response was…"Yes, it is and you have already completed most of the steps for full inclusion—would you like to complete the rest?" He replied…"sure!" He wasn't told what the other few steps included, just as many who get into deeper with their "secret lodges & societies" in order to lure members down the ladder which, leads to the threshold of no return. They get so hooked—intrigued—and likely don't realize how dark, evil, and disgusting it becomes. They give up their freewill and give Satan a legal license to run & completely ruin their lives. Thankfully, there is a way out for them! Thankfully, Jesus took ALL sin and evildoing upon Himself and to the cross, so we might be free of the traps set by the great deceiver—Satan.
As an Ifa practitioner, I began to study the Yoruba language along with all the tale stories of the Orishas. I not only brought animals to be sacrificed on my behalf, I also did the killing as well as, ate of a sacrificed animals. I was taught this was honorable, sacred work to have gratitude for the animal taking my place. Ancestor worship was a large part of these practices, too. Along with "sacred" articles of initiation, I also had ancestor altars; everything had to be fed with prayers, food, liquor, palm oil and/or blood, regularly. I spent much time in daily prayers and practices and again—I loved it.
Because of the career I was just beginning though, I began to meet people who were doing different approaches to energy and spirit work, and like a good spiritual power junkie, I was hooked on the next new high. This new world that I entered, was actually an old one; one of the first books I had ever picked up when I began this whole journey would leap out, and lead the way into another aspect of the new Age (of Lucifer), I had not yet delved into too deeply.
Discord within the varied circles I participated in made it easy to move on. I happened upon a new thought church, and when I heard about what their beliefs were, I thought this is exactly what I believed. I didn't know there was an organized body of believers, and what intrigued me most was the idea of omnipotence that made everything else I did seem like paltry child's play. Finally, I was on a path that didn't require a lot of pomp and circumstance in order to make things happen. I won't say it was easier because the real work came in the realm of mental mind control.
"There is nothing more powerful than a trained mind"—this work did not focus on manipulating external influences to make things happen, but was put solely on the individual to live his or her goodness through thoughts that create things. The premise is that there is a "creative substance" in which all things are formed. The thought put and held in this substance—creates the thought in form, i.e. physical reality. Thus, think what you want in life and do the work to uncover hidden opposing thoughts—then root those out, so all of your thought energy is focused on what you really want. I spent a few years studying the underpinnings of this doctrine. The concept of God was referred to as the mind, universe, and the source which, is essentially terms to an idea of creative consciousness. It was the moment that this creative substance became aware of itself that creation began. WARNING: THE DEVIL KEEPS PEOPLE BLIND TO THE TRUTH.
SCRIPTURES OF TRUTH:
"Satan, who is the god of this world, has blinded the minds of those who don't believe. They are unable to see the glorious light of the Good News. They don't understand this message about the glory of Christ, who is the exact likeness of God." (2 Corinthians 4:4)

"Jesus said to him, "I am the way, the truth, and the life. No one comes to the Father except through Me." (John 14:6)
I had embarked on a new career path as a life coach and a few years in, I was invited by one of my mentors to participate in something that took on a whole new "thought movement". It was like thoughts on steroids, and the work we did was completely focused on energy and its potential. I called this navigating "the invisible side of the visible world". This was all about having living intentional consciousness on both sides and being able to call things into creation. This is where I experienced the black goo—it was a luxurious feeling—like a paradox of excitement and deep peace. I likened it to being like liquid, pitch black, silk velvet; these words hardly express the gloriousness of how it felt to both the energetic touch and to be amidst its presence. I also called it creative cosmic goo that you could just dip in and grab huge handfuls of and create reality from it. The "work" that my colleagues and I did felt cosmic—beyond enormous and miraculous. I traveled around the world to learn and be trained in groups—I then, became a trainer myself, and I was indoctrinated into "godness". This evolutionary consciousness work was beyond anything I had ever experienced before and nothing ever felt so good again, until—JESUS.I was completely immersed in this way of living and working. Everything I did launched from this foundation/platform and from there, I packed my things and hit the road to refine my purpose and cultivate more intimate relationships with people who mattered to me at the time. My work was done on the phone and via computer, so going global was relatively easy. What I didn't know was what God had in store for me. Someone recently asked… "Was it God or Satan who sent you on the road?" and, I wholeheartedly believe that it was God paving the way for me to be ready for Him...sometimes you have to go to rock bottom before you go up—or in this case—look up to the true living God who was calling me for years, but I kept doing my own thing as He continued to pursue me.
A year or two before I left for the unknown, my sister and I, were serving Christmas dinner at a large homeless center. This is something that we did each year, and this particular time—one of the guests, was straggling behind at the very end of the meal. I began cleaning up the trash & putting away the salt and pepper shakers when she came over to minister to me about Jesus. I could feel Him calling me again with the things she shared. Something inside of me wanted to say, "YES!", but I just couldn't. Something else inside said, "You don't believe that about Him—you can't say yes!" Well, all of a sudden, one of the workers from the center came to rescue me from possibly going crazy and say YES! I remember leaving with tears streaming down my face. Satan's grip was extremely tight on me, and I now know that he sent one of his minions through someone else to get me away, and it worked. This memory, has puzzled me at times, because I have wondered what was in me that wanted Jesus so much—especially because He became OK in my eyes, as I came to think of Him as an enlightened master, but not higher than any other. WARNING: THE DEVIL IS A LIAR AND KNOWN AS THE FATHER OF LIES. In Luke 8:44 is says..."He was a murderer from the beginning, not holding to the truth, for there is no truth in him. When he lies, he speaks his native language, for he is a liar and the father of lies."
When I hit the road, I sold most of my belongings and then, packed my car and put the rest into a storage facility. My plan was to accept a myriad of invitations, put them all together and travel the country for about two years. I expected by the end of the two years, that I would come to know something that I didn't know and then, have a better idea where I should live.
The biggest things that stand out during my four and a half years on the road was that I got deeper into my spiritual/energy work AND—I got further away from truly coming to know the Lord. In removing distractions of everyday life, I was able to focus on "clearing out my inner clutter". This meant a whole lot more of doing all kinds of energy things: past life regressions, re-birthing, reikie, feng, shui, crystal bed healing, esoteric healing, DNA reattachment, entity attachment removal and a few more. I also got drunk and high at a heavier pace than I had for some time. Yes, my focus was on making money and having a good time.
About this time, I started getting interested in "truther" research. At this time, I started to notice how the music industry was becoming so blatantly satanic, and it made me wonder what was going on. I began to feel, that many things were waging war against my mind, my body, and my spirit. This spread to deeper research about hidden aliens (I was already a believer in them), and reptilians, cloning, mind control, and so on. This rabbit hole got real deep—fast! That brought something to my attention, that really blew my mind: the New Age Movement originated as The New Age of Lucifer around the same time as the New Thought Movement. I learned that the founder of the esoteric healing treatments, that I had been receiving almost every week for over two years, was a part of developing this movement—I found this very unsettling. Although, I didn't "believe in Satan", (which is hard to believe because of how much dark and evil I was involved with)—I didn't like the idea that something I found to be so much about love, light, and healing had its origins in something so purely dark and evil.
By this time, I had settled into what was finally and quickly becoming my new permanent home. As part of my settling in, I joined the Unity Church because I wanted to integrate into my new community, and it was the closest thing I was aware of in town that aligned with my beliefs. I went deep! In my opinion, I really grew in this community, that I jack hammered away at limiting beliefs, and went back to my new thought roots. While on search for a new minister, I gave the Sunday morning talk a few times, and each time—was a reminder into how much I loved this stuff. I was able to draw upon my historical teachings, blend it with the creative cosmic goo, and mix it up with my truly unyielding faith in God. I truly believe, at some point along the way—that I was always and earnestly seeking to know God. SERIOUS WARNING!!! I was looking for God, but in the wrong places. THE UNITY CHURCH IS NOT A TRUE CHURCH—IT'S A CULT!! This cult, teaches the principles that promote a way of life that leads to one's health, prosperity, happiness, and peace of mind. They seek to "create their life" experiences through their way of thinking. To do this, they align themselves with specific mediation's. THE BIBLE WARNS US OF SUCH THINGS, SO WE ARE NOT LED ASTRAY AND, SO WE CAN TRULY COME TO KNOW CHRIST AS OUR SAVIOR. ANYONE OR ANY CHURCH THAT GOES AGAINST WHAT GOD TEACHES IN THE BIBLE, IS A SERIOUS DANGER SIGN TO STAY AWAY AT ALL COSTS!! A CULT DECEIVES PEOPLE FROM KNOWING THE ONE & ONLY TRUE GOD. AS SATAN DISGUISES HIMSELF, AND PEOPLE FALL FOR ALL THE LIES & FALSE MIRACLES—THEY ARE LED RIGHT INTO THE PITS OF HELL INSTEAD OF HAVING ETERNAL LIFE WITH JESUS.
BIBLE SCRIPTURES TO HELP YOU AVOID SATAN'S SCHEMES:
"For the time will come when people will not put up with sound doctrine.Instead, to suit their own desires, they will gather around them a great number of teachers to say what their itching ears want to hear. They will turn their ears away from the truth and turn aside to myths." (2 Timothy 4:3-4)

"I am the way and the truth and the life. No one comes to the Father except through me." (John 14:6)

"God is light; in him there is no darkness at all." (1 John 1:5)

"For such people are false apostles, deceitful workers, masquerading as apostles of Christ. And no wonder, for Satan himself masquerades as an angel of light. It is not surprising, then, if his servants also masquerade as servants of righteousness. Their end will be what their actions deserve." (2 Corinthians 11:13-16)

"The coming of the lawless one is according to the working of Satan, with all power, signs, and lying wonders, and with all unrighteous deception..." (2 Thessalonians 2:9-10)

"For they are spirits of demons, performing signs, which go out to the kings of the whole world, to gather them together for the war of the great day of God, the Almighty." (Revelation 16:14)
A few months prior to Jesus coming for me, I signed up for a series of energy sessions that utilized a combination of techniques to help clear PTSD and trauma memory from the nervous system. The process was based on some particular body movements in conjunction with saying certain things. The result was to reboot the brain and clear the neural pathways. It relied upon Neural Linguistic Programming as well (NLP). The first session mandated an NLP script while doing the hand techniques that focused shutting the door on suicide—this obviously dealt with death which, I didn't do in awhile. The standard technique was done a few times a day throughout the week. After the first week or so, I started feeling anxious and restless. I was waking up in the night stalked by death. It was strange and disturbing. I reached out to my coach/practitioner and requested an urgent session, then she walked me through some other scripts, and then back to the "close the door on suicide one", and something amazing happened. In my mind, I could see a room with a door that opened up to suicide. I also saw myself trying to pull it closed with all of my might while at the same time —a demon was trying to pull the door open with all of its might. The instant I realized what was happening—a bright light emerged causing the demon to instantly let go, and whooshed/sucked out into a big black hole of the universe. Again, Jesus rescued me—In fact, He kept on rescuing me—until, I was ready to be saved!
On Thursday, June 29, 2017th, I watched a video titled, The World Belongs to Satan which was a testimonial interview of Alice Cooper. (Video is below) Anyone growing up when I did, and doing the things I did—knew and loved Alice Cooper, so to hear him tell his story was the straw that broke Satan's hold on my life. Alice mentioned something about a hellfire deliverance ministry, and as soon as he did, I pulled out my phone and started searching for deliverance ministries in my town. One link led to another, and I landed on BibleKnowledge.com. BibleKnowledge.com, helps people grow in their relationship with the Lord through teaching(s), and there's a variety of other topics that a person can search to find answers as well. As I read through the requirements for deliverance, I learned about breaking off generational curses. It was through deliverance, that I learned about salvation. The most important intimate relationship that I cultivated was the one I had with God. He turned my heart of stone into flesh, and I could feel it! When Alice Cooper spoke of deliverance, something inside of me said GO, and I could feel my heart cracking wide open, and Jesus was there. It was His love that was bigger than anything that I was looking for before.
Witchcraft and the occult is a lot like addiction; at some point you're going to need more and more to see how far you can go. In reality though—Satan just keeps sweetening the pot and enticing people to go deeper and deeper until one day—there's just no turning back. I can hardly believe this whole story is just a glimpse into my life, but all praise, glory, and thanks to God that it's not now!
When it was all said and done, and I mean done—I cast Satan out of everything. With tears pouring down my face, life pouring into my soul, and peace pouring into my body—I said, YES to Jesus! Then I said to Him, "I don't know what all of this means, so I ask that you to teach me"—and teach me He did!
One minister that really helped me understand how dark the path of "light", I was living in was—Johanna Michaelsen. Johanna, authored the book The Beautiful Side of Evil, which demonstrates that Satan doesn't really care about what kind of supernatural work it is because—IT ALL WILL KEEP US FAR AWAY FROM JESUS!! Her personal story, really opened my eyes to the truth of how evil my life had been.
The Holy Ghost just took me from one teacher to another, and I quickly learned about demonic/satanic legal ground and— just as in Acts 19:19, I realized that I too, had to get rid of ALL THE STUFF IN MY HOME, as well as—quit yoga because it's Hindu god worship—no matter how one tries to spin it. Every pose in yoga is designed to worship, and evoke one of their many millions of gods. As much as I loved it, I quit on the spot even with two more months on my unlimited class pass. Acts 19:19 says, "Also, many of those who had practiced magic brought their books together and burned them in the sight of all. And they counted up the value of them, and it totaled fifty thousand pieces of silver." WARNING—THE DANGER OF YOGA! Yoga is a 2,000-year old Hindu religious practice used for spiritual and occult purposes. It is pagan—it is part of the occult/the devil, and GOD STRICTLY FORBIDS IT!! All the physical postures of yoga, are keys to unlock the spiritual realm with the purpose of becoming "unattached from oneself and the world". YOGA IS VERY DANGEROUS AND GOES AGAINST SCRIPTURE!!
BIBLE SCRIPTURES TO HELP YOU AVOID SATAN'S SCHEMES REGARDING YOGA:
"You shall have no other gods before Me." (Exodus 20:3)

"Now the Spirit "expressly says that in latter times some will depart from the faith, giving heed to deceiving spirits and doctrines of demons…". (2 Timothy 4:2)

"Then Jesus spoke to them again, saying, "I am the light of the world. He who follows Me shall not walk in darkness, but have the light of life." (John 8:12)
Within the first week of my salvation, I threw out everything in my home that I could find that had a connection to the occult or new age. Occasionally, I still find a little something here or there that for whatever reason went unnoticed; maybe just I didn't have the eyes to see fully yet, or I had bypassed it in my flurry to purge my home of the enemy—when I come upon it now, out it goes! WARNING: Please DO NOT give any occult items to those you know or to thrift stores etc. because, it will only be recycled out back into the world, leading others astray from the truth of Jesus.
After salvation, one of the most critical factors is deliverance. Deliverance made way for me to put a lot of emphasis on spiritual warfare and to armor up! I think spiritual warfare through Jesus is one of the most powerful gifts of salvation, especially in order to live this life for His glory despite the enemy's attempts to derail us. In the Bible, Ephesians 6:10-18 teaches about THE WHOLE ARMOR OF GOD. It is this armor that protects us from what Satan tries to do to us in our daily lives.
THE WHOLE ARMOR OF GOD: (Ephesians 6:10-18)
"Finally, my brethren, be strong in the Lord and in the power of His might. Put on the whole armor of God, that you may be able to stand against the wiles of the devil. For we do not wrestle against flesh and blood, but against principalities, against powers, against the rulers of the darkness of this age, against spiritual hosts of wickedness in the heavenly places. Therefore take up the whole armor of God, that you may be able to withstand in the evil day, and having done all, to stand.
Stand therefore, having girded your waist with truth, having put on the breastplate of righteousness, and having shod your feet with the preparation of the gospel of peace; above all, taking the shield of faith with which you will be able to quench all the fiery darts of the wicked one. And take the helmet of salvation, and the sword of the Spirit, which is the word of God; praying always with all prayer and supplication in the Spirit, being watchful to this end with all perseverance and supplication for all the saints"—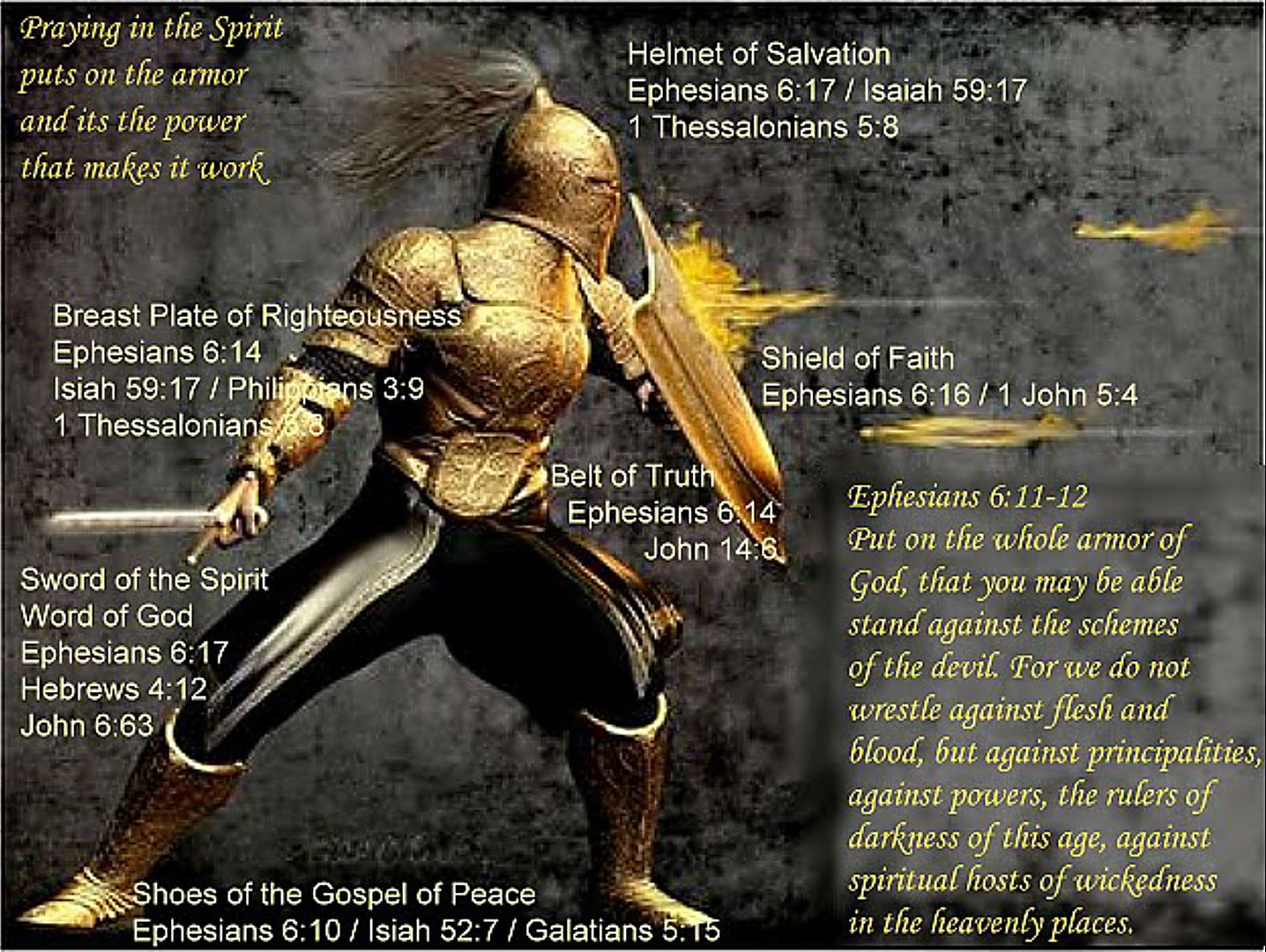 The Armor of God
I hope that my story helps you avoid the many demonic pitfalls that I feel into. It is only through Jesus that we have eternal life, and I fall more in love with Him everyday! May you prayerfully consider to give your life to Christ as I did. It's the best decision, that I have ever made!!!
SOME HELPFUL SCRIPTURES FOR YOU IN YOUR DECISION TO FOLLOW CHRIST:
"If we confess our sins, He is faithful and just to forgive us our sins and to cleanse us from all unrighteousness." (1 John 1:9)

"For God so loved the world that He gave His only begotten Son, that whoever believes in Him should not perish but have everlasting life." (John 3:16)

"For the wages of sin is death, but the gift of God is eternal life in Christ Jesus our Lord." (Romans 6:23)
Yes, Jesus Christ of Nazareth, King of Kings, Lord of Lords swooped into my life, filled my heart and drew me to an absolutely new way of life.

Saved, Delivered, Baptized, Testified, Devoted, and doing the best I can to obey, learn, listen, follow, and—everything else in God's plan for me.

Meanwhile, after a lifetime of occult and new age spirituality, I've been busy doing what many do when they're on a coaching journey: walking a parallel path.

One is where I use the discernment I'm gaining with eyes to see and ears to hear to clean up the life I created and lived for over five decades.

The other path I'm walking opens up my mind, world, life, reality to experience what it is to really know Christ. To understand and exult in what it truly means to have a Savior. To be loved that much is kinda mind-blowing.

It's all new to me, and I couldn't be more delighted, excited and blessed!
Professionally, I'm exploring what it means and how I can use my coaching and mentoring expertise and gifts for God's glory. I've got some ideas, but it's not really up to me, is it?!
Johanna Michaelsen's books---The Beautiful Side of Evil---and Like Lambs to the Slaughter---teaches about the dangers of the occult from her personal experience, and can be purchased on Amazon. Click on the book cover(s) to purchase
Simone Testimony Shared at Three Hearts Church